Hi Everyone and happy 2023! We're back from a refreshing break and thrilled to kick off the new year with a bunch of 2023 predictions, as well as a great report covering the mobile shooters genre.
We're also excited to announce a new initiative in which we're partnering with VC firms to offer bulk discounts for Naavik Pro to their portfolio companies. Play Ventures, which always goes the extra mile to support their companies, is our launch partner. Heading into the new year, we can't wait to help all these great teams level up with our market research. If you're a VC (or any business that supports multiple studios or companies) and would like to run a similar program, please reach out to learn more.
We're also still collecting feedback from you — our Naavik Digest readers! As a reminder we've put together a super quick survey for you to fill-out and will be giving away a free month of Naavik Pro to three lucky survey participants! So be sure to click the link below and let us know your thoughts.
Web3 Investing with Animoca Brands
Happy New Year from The Metacast We are ringing in 2023 with Yat Siu, the founder of the Crypto & Blockchain titan Animoca Brands. We focus the Animoca origin story, how they found Crypto Kitties, their investment strategy (and why it's totally different than a traditional VC), digital property rights, and more. It's a new year, a fresh start for crypto, and there's no better place to begin than the OGs.
You can find us on Spotify, Apple Podcasts, Google Podcasts, YouTube, our website, or anywhere else you listen to podcasts. Also, remember to shoot us any questions here.
#1: Naavik's 2023 Mini-Predictions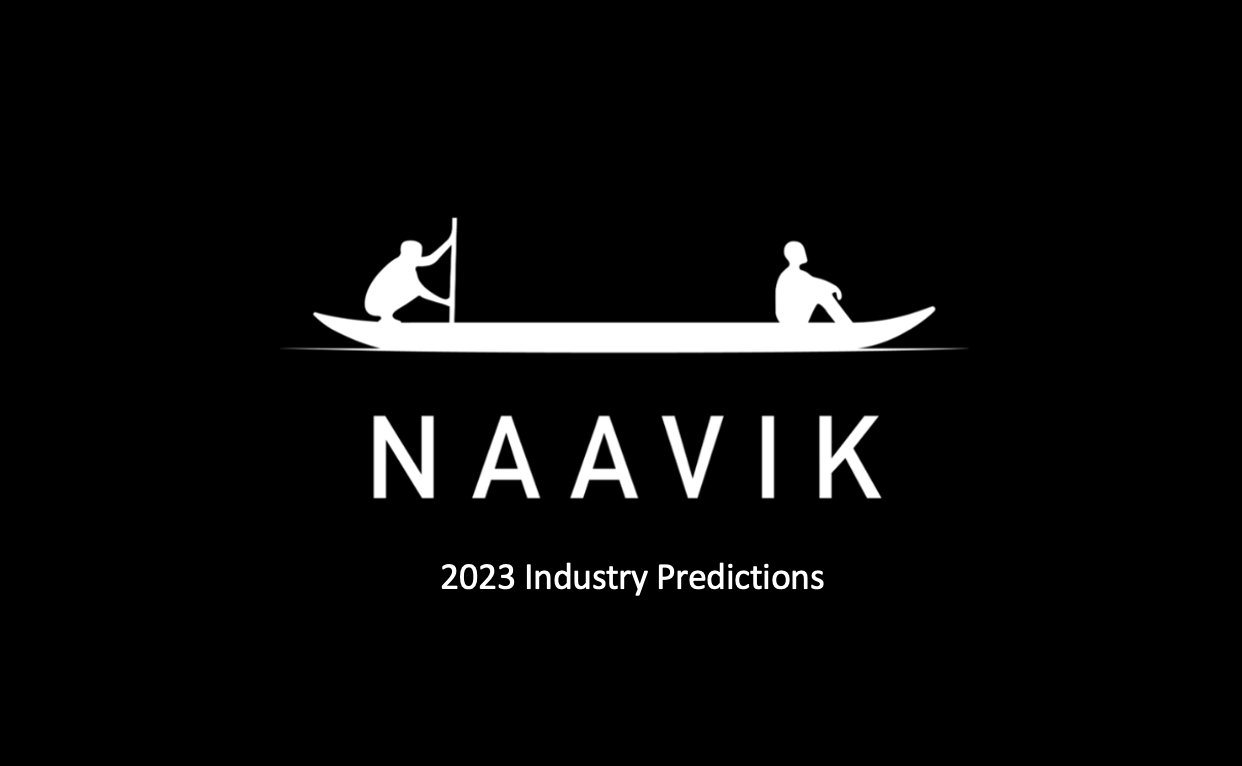 Editor's Note This week's issue is a bit different. To kick off 2023, we've gathered predictions from across the Naavik team to forecast how this year may change the gaming industry as a whole. Do you have a bold prediction of your own? Hit reply and let us know and check out what we got right / wrong last year.
Genre-mashing could potentially be a new road to innovation in F2P mobile
As you'll see in the graph below, many mobile F2P genres that have historically been dependent on targeted UA for revenue growth are suffering from dropping revenues post the release of ATT. While the more recent revenue dips can also be attributed to post-COVID slumps and increased inflation globally, finding the right/highly monetising players for a mobile F2P game has never been harder.
Due to increased inefficiency in targeted UA, many mobile F2P game developers are trying to find new ways to adapt to the new normal. While some are exploring tactics like "UA channel diversification" and "increased IP infusion", a broader need to improve game accessibility and broaden the top of the funnel also seems to be surfacing. I believe this is mainly because lowered targeting capabilities force mobile F2P game developers to cast wide nets on existing UA pools to maximise the number of new downloads. Once they're in the product, then is the time to figure out which of the new players would be highly monetising ones. Further, in a sea of mobile F2P games that are not only competing for the same UA pools but also increasingly becoming indistinguishable from each other, all the above is also resulting in a higher need to differentiate versus competitors.
This is where genre-mashing comes in, and in my opinion, it has the potential to become one of the defining trends for innovation in mobile F2P over the next few years. Moreover, genre-mashing has already begun its journey.
For example, the 4X subgenre used to be what we saw in Machine Zone's Game of War, but today we have "Top War". This has a Merge mechanic hooked into a Build & Battle core, and then it opens up into 4X gameplay. Puzzles & Survival (which we recently deconstructed on Naavik Pro) is another recent example of a 4X game that has managed to scale successfully in a post-IDFA world by leveraging its zombie theming and Match-3 mechanic hooked into a Puzzle RPG core.
Similarly, Slots has innovated from the typical "Slotomania" roots to a more casual "Coin Master", which has a slots core mechanic and a highly social, light Build & Battle meta. Tower defense has innovated from the original "Plants vs Zombies" experience to "Arknights", which not only has a very familiar tower defense core but also a heavy RPG-equse meta. And even Match-3 is seeing innovation with moving on from the "Candy Crush" and "Gardenscapes" eras to "Match Masters", which still keeps the Match-3 core experience but layers on a heavy PvP progression meta.
While all these games are highly successful in their own regard, the broader point is that genre-mashing is occurring across genres to generate new types of mobile F2P game experiences. Further, these kinds of products help showcase how teams are using genre-mashing to differentiate in an increasingly competitive mobile F2P landscape, and additionally leveraging highly accessible/mass-market core mechanics (in their UA strategies) to broaden the top of the funnel as much as possible. (Written by Abhimanyu Kumar, Co-founder @ Naavik)
EA will make Battlefield 2042 free, building momentum around AAA F2P
Inspired by the success of Apex Legends, EA's premiere shooter Battlefield 2042 will go F2P.
EA's continued support of BF2042 despite a disastrous launch and weak player numbers suggests they're preparing it for something bigger (unlike Anthem, which they abandoned). Adopting a F2P model will utilize all the content and quality of life refinements that have been gradually rolling out, opening the doors to millions more players. The existing hardcore player base will be furious, but they'll be compensated, and it will be successful regardless.
Collaboration between HD and mobile Battlefields — including shared understanding of how to operate a cosmetics-based economy in an authenticity-focused IP, and perhaps cross-promotion in the form of shared battle pass progress - will bolster both SKUs.
This success, combined with evidence from making The Sims 4 free, will provide EA with the impetus to go even bigger on AAA HD F2P, and they'll later apply the template to the patchy Need For Speed franchise. (Written by Tom Baker, Consulting Partner @ Naavik)
The tide against loot boxes gathers more steam
Yeah, yeah. We've heard it all before, "It's the end of gacha as we know it!". Yet, new games keep getting released with this ubiquitous monetization mechanic for the simple reason that it works.
Still, this time it does feel like the opposition against gacha is gaining traction. From the Norwegian report condemning loot boxes, the European Commission performing a Digital Fairness Check, and games being held from release from countries that ban loot boxes. Most recently, Australia has filed a bill restricting games with loot boxes to those 18 and over, the legal gambling age.
What has slowed down the process of regulating loot boxes has been its framing as a form of gambling and attempts to place it under a country's gambling laws. This paper by Deirdre Leahy provides a nice critique of the current state of loot box regulation and asks "whether the debate on product-specific rules for loot box games was conducted in reverse, commencing with a set of potential solutions, while research on harms is still at an early stage".
Will we see the death of loot boxes in 2023? Nah. What we can expect is more studies on its effects, particularly on children, and more countries following the footsteps of Belgium and the Netherlands. Loot boxes will need to evolve to provide even greater consumer protection as otherwise, in the words of the UK's Department for Digital, Culture, Media & Sport, "we will not hesitate to consider legislative options, if we deem it necessary to protect children, young people and adults." Perhaps this step by Brawl Stars to remove ALL Brawl Boxes is the first pebble of the coming avalanche. (Written by Jordan Phang, Games Industry Consultant @ Naavik)
Leveraging different game genres as player onboarding
Pretty sure you know mobile games hits Topwar or Kingdom guard. These games are 4x strategy games, but you can't spot that on a first sight. They started leveraging different game genres as their onboarding. Topwar uses a merge mechanic and Kingdom Guard tower defense gameplay to decrease CPIs and ease the player onboarding into their 4x strategy game that appears in the game after the tutorial and after you play the game for some time.
My sense is that we will see this approach more and more next year in different genres. Not only in Match3 or RPG genre where we see high CPIs already.
There you go – using different game genres (preferably those with low CPIs) as onboarding for your game. That's it! If you are looking for data to back this up, here you go! (Written by Matej Lancaric, User Acquisition consultant)
Consolidation is coming for blockchain gaming
Early this year, as the crypto markets were beginning to show signs of weakness, I spoke with the CEO of a web3 collectibles company that had recently closed a nine-figure fundraise and had ambitions to establish a presence in gaming. When I asked about their plans for how they'd handle a market downturn, the quick response was "oh, we'll just start acquiring companies!"
Fast-forward several months and the market finds itself in the throes of a brutal "crypto winter". Many companies have folded and a string of scandals has shaken consumer confidence. Web3 gaming has not been spared either, with a number of games going under already (Jon Jordan has a nice write up here). For those that have survived, there may still be hard times ahead. Many Solana-based games companies are still feeling the downstream effects of the disaster that unfolded at FTX. Even those that have managed to steer clear of the numerous web3 scandals in 2022 will be faced with heightened skepticism by way of association and will struggle to attract new users.
As such, I predict that struggling web3 gaming operations will increasingly partner with or be absorbed by those with deeper pockets. The likeliest of acquirers will be those with large warchests raised during the bull run of eye-popping valuations, as well as incumbents that have already made meaningful strategic pivots into web3 -- particularly in Asia, where web3 gaming appears to have taken hold more firmly than in the West. Companies like Animoca Brands, Krafton, or Netmarble come to mind as likely candidates. We may even see Western publishers sniff around for good deals. Would anyone be surprised at this point if a company like Embracer or Stillfront decided to snatch up a web3 games studio to add to their existing stable of studios (Written by Matt Dion, Content Contributor @ Naavik | Lead Product Manager @ EA)
Games find new and novel ways to circumvent the effects of ATT
For Naavik's predictions last year I wrote that I expected more companies to leverage games as a market-expansion strategy. While I expect this prediction to hold true in the long-term, there weren't many new companies that embraced this prediction last year. Instead, there was a lot to focus on this from a UA perspective.
This year, we saw ATT rattle the industry front and center. My gut tells me that there's more than meets the eye here than near-term metrics indicate, and that downloads / revenue for F2P games will suffer in the near-term (stay tuned for our upcoming genre reports on Naavik Pro, particularly the hypercasual one). Of course, this isn't a novel observation as many industry analysts have recognized this impact.
I predict that there will be three types of gaming companies that succeed in this era: 1) Existing games with strong IP that have a solid grasp of their consumer base and can adapt their monetization strategies to cater to them (e.g wider price ranges for IAPs, changed design principles like Brawl Stars removing Loot boxes, etc.); 2) Games that leverage new and novel distribution channels — this year, Survivor.io became a top charting game for its use of TikTok ads, Omega Strikers had a stellar launch through streamer activations, and Limit Break seems to be building a fervent community for its future marketing efforts; 3) Subscription platforms like Xbox Game Pass will become a powerful lever for games (new and old) discovery. To my colleague, Manyu, let's see which of these comes true vs. genre-mashing ;). Perhaps a combination? (Written by Fawzi Itani, Content Contributor @ Naavik)
Esports orgs feel the heat
Earlier this year I wrote about the news behind 100 Thieves upcoming game, and what it implied more broadly about the need for sustainable revenue in esports orgs as a whole. To summarize my thoughts, I noted that companies like 100 Thieves (who are already an outlier thanks to their balanced revenue split) would need to make bold bets (like its upcoming video game) to innovate in how they monetize audiences or face existential risk in the years to come. We've already seen the risks with FaZe Clan, which is facing insolvency just 5 months after going public.
It's an example that's illustrative of the broader headwinds for esports that I expect to only increase in 2023. Industry experts are discussing why the space is faltering, viewership numbers decreased nearly 50% in 2022 compared to the year prior thanks to loosening COVID restrictions, and the United States Department of Justice is investigating some of the spaces biggest players for anti-trust behavior. Meanwhile tightening budgets means that sponsorship revenue and investment from developers will inevitably decrease, leaving many orgs without a fundamentally sound monetization strategy to hold onto.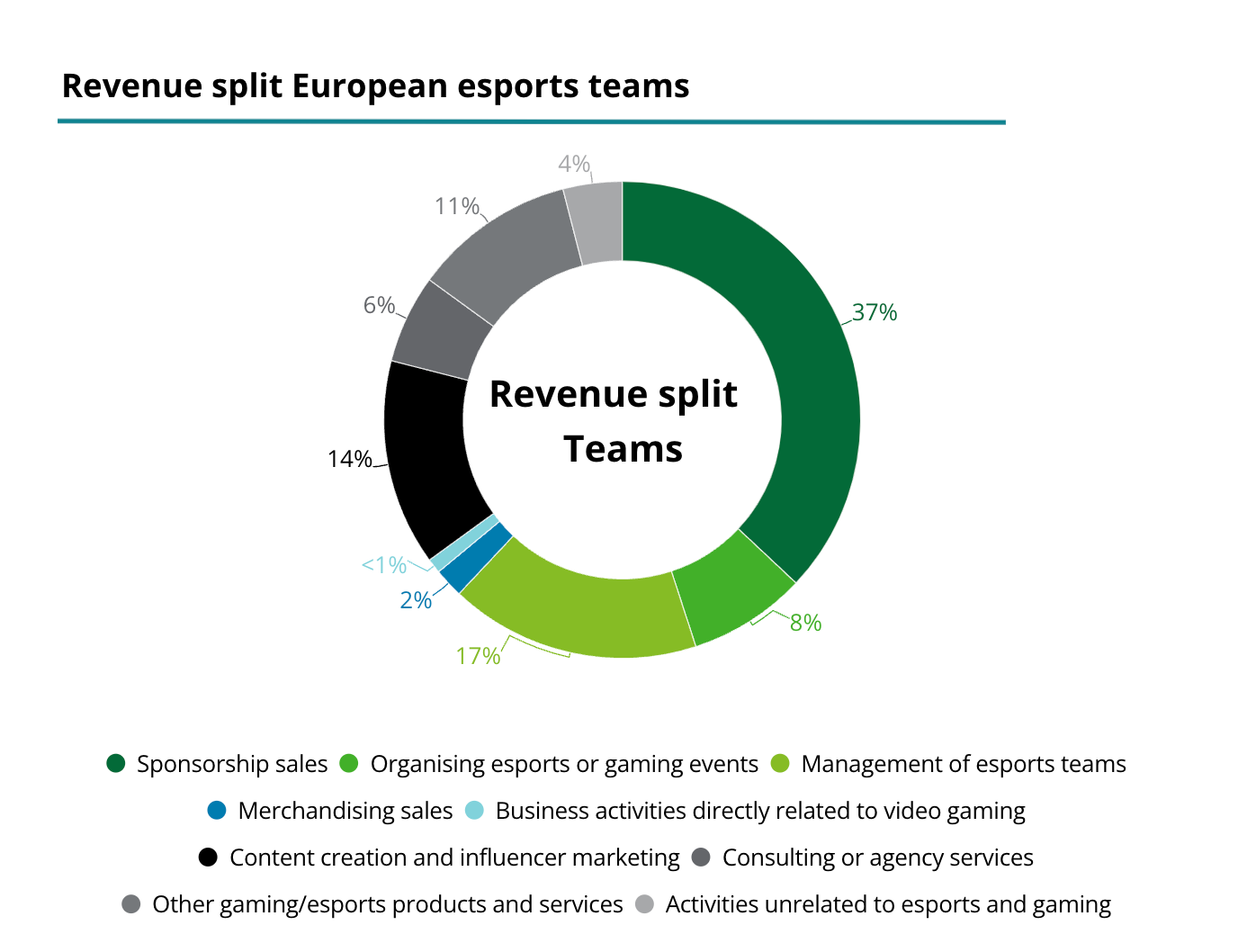 There are glimmers of hope. Tekken 8, Street Fighter 6, and Riot's upcoming Fighting Game could lead to renaissance of sorts amongst the fighting game community in 2023, and viewership is still higher than it was pre-pandemic (even if monetization of those viewers has stayed about the same.) Esports continues to feel like a problem that is yet to be solved, and with economic conditions worsening, I expect we'll see a contraction in the immediate term before it's all figured out. (Written by Max Lowenthal, Content Contributor @ Naavik)
Metaverse brand activations level up
If 2021 and the Meta (formerly Facebook) rebrand was about Metaverse hype, 2022 proved that it has staying power. Brand activations on platforms like Roblox, Fortnite, and Minecraft exploded in 2022 as brands learned that marketing on these platforms is more effective than traditional brand marketing (linear content ads). I expect that this trend of brand activation growth will continue in 2023 with one big caveat.
As more brands launch activations in the metaverse, there will be increasing headwinds to getting the same engagement that early activations received. In order to overcome this, we will see further innovation in the form of cross-over experiences i.e. unlock an achievement in Roblox or Fortnite and get a reward in real life, or vice versa. (Written by David Taylor, Content Contributor @ Naavik | Lead Product Manager @ Supersocial)
Five more predictions
I don't have any one grand prediction, so I'll throw out a handful. Where to start?
The console market will nicely rebound this year as hardware unit sales accelerate and more AAA games release compared to 2022. PS5 will see the most uplift.
Assuming 2023 is a recessionary year, the impact on games industry revenue will be larger than it was back in 2008-2009. Live-ops (of premium & F2P games) unlocked higher spend ceilings, but many big spenders may cut back. We'll also see larger pullbacks on the B2B side. In many ways, the recession hit the games industry early (between covid whiplash and post-IDFA impacts), and one silver lining is that we're already seeing many companies refocus on becoming healthier (reduced burn, greater profitability, more realistic forecasts). We'll see more of that as we head into 2023.
VC investments will take a step back (especially in H1 compared to last year), and many teams may not be able to launch their next funds exactly as planned due to LPs tightening their wallets. However, the 2023 class of early-stage investments will likely outperform the previous couple classes due to lower expectations baked into prices as well as fewer "tourist" entrepreneurs joining because of hype. Plus, recessions are often when many of the best future companies are born.
AI will roll through the hype cycle. It's incredibly exciting to think through the long-term implications on game design and artwork, but turning AI breakthroughs into functional, scalable products will take some time. Similarly, the term "metaverse" will continue to wane, although what it stands for (a more immersive and interconnected evolution of the internet) will continue to make progress.
Perhaps it's wishful thinking, but I predict (really more hope) that regulators start making more sense in their antitrust rulings. This primarily means that instead of focusing on what matters little (like stopping Meta from buying a VR fitness app) they refocus on what matters most (Apple's anticompetitive App Store policies). Also, the Activision Blizzard / Microsoft acquisition gets approved, likely with concessions around exclusivity (if regulators don't see that this acquisition actually increases business model competition, they should find new jobs!). (Written by Aaron Bush, Co-founder @ Naavik)
#2: What's Next After Battle Royale? — Mobile Shooters Genre Report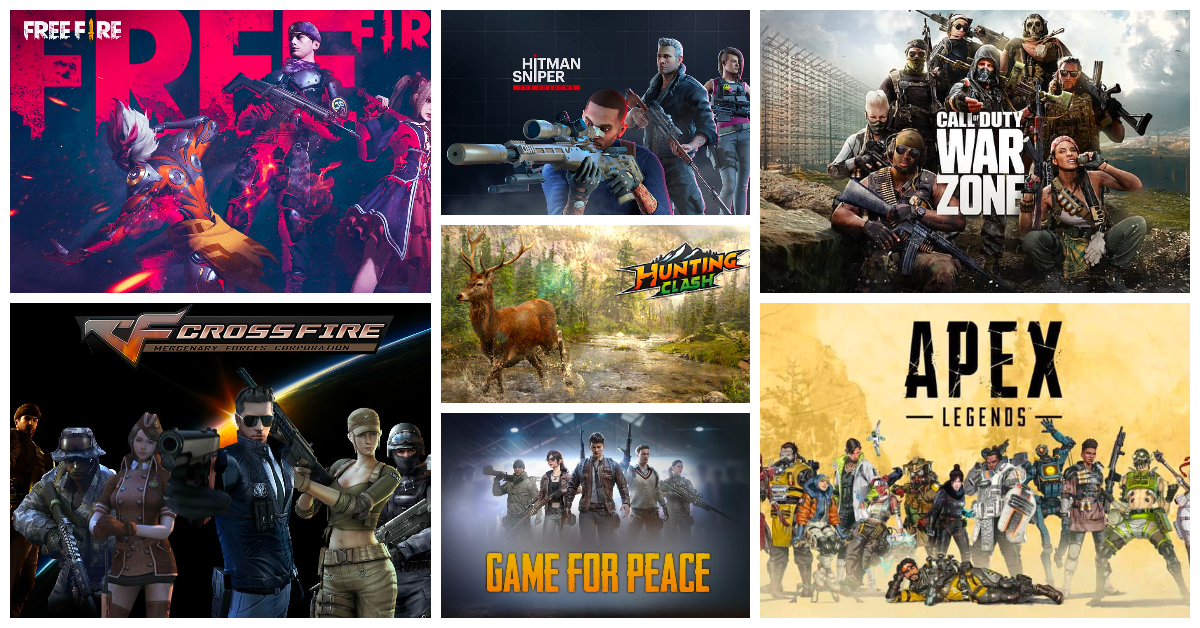 Editor's Note: We're excited to kickstart a new report series in Naavik Pro — mobile genre reports — and publish the first one for free!
Each month, we'll focus on a different genre and dive deep into its performance, key trends, notable events, subgenre breakdowns, and future predictions. In order to cover each genre twice a year, we've grouped them into these 6 categories which will result in 12 reports a year: Shooters, Puzzle, RPG, Arcade/Hypercasual/Sports/Driving, Strategy and Card, and Lifestyle and Simulation.
To start, we're tackle the Shooters genre. If you're interested in receiving a report like this each month — plus ongoing game deconstructions, research essays, and weekly updates — make sure to request a demo to Naavik Pro, and we'll help you get started.
Despite the fact that massive games like Call of Duty: Mobile, Garena Free Fire, PUBG Mobile, and Apex Legends Mobile grab a large part of the public's and industry's attention, the Shooters genre only accounts for a small fraction of the mobile games market. In terms of downloads, the chart below shows that, for the trailing 12 months (November 2021 - October 2022), Shooters only made up 5% of the market.
The genre fares a little better in terms of revenue, sharing 6% of the pie.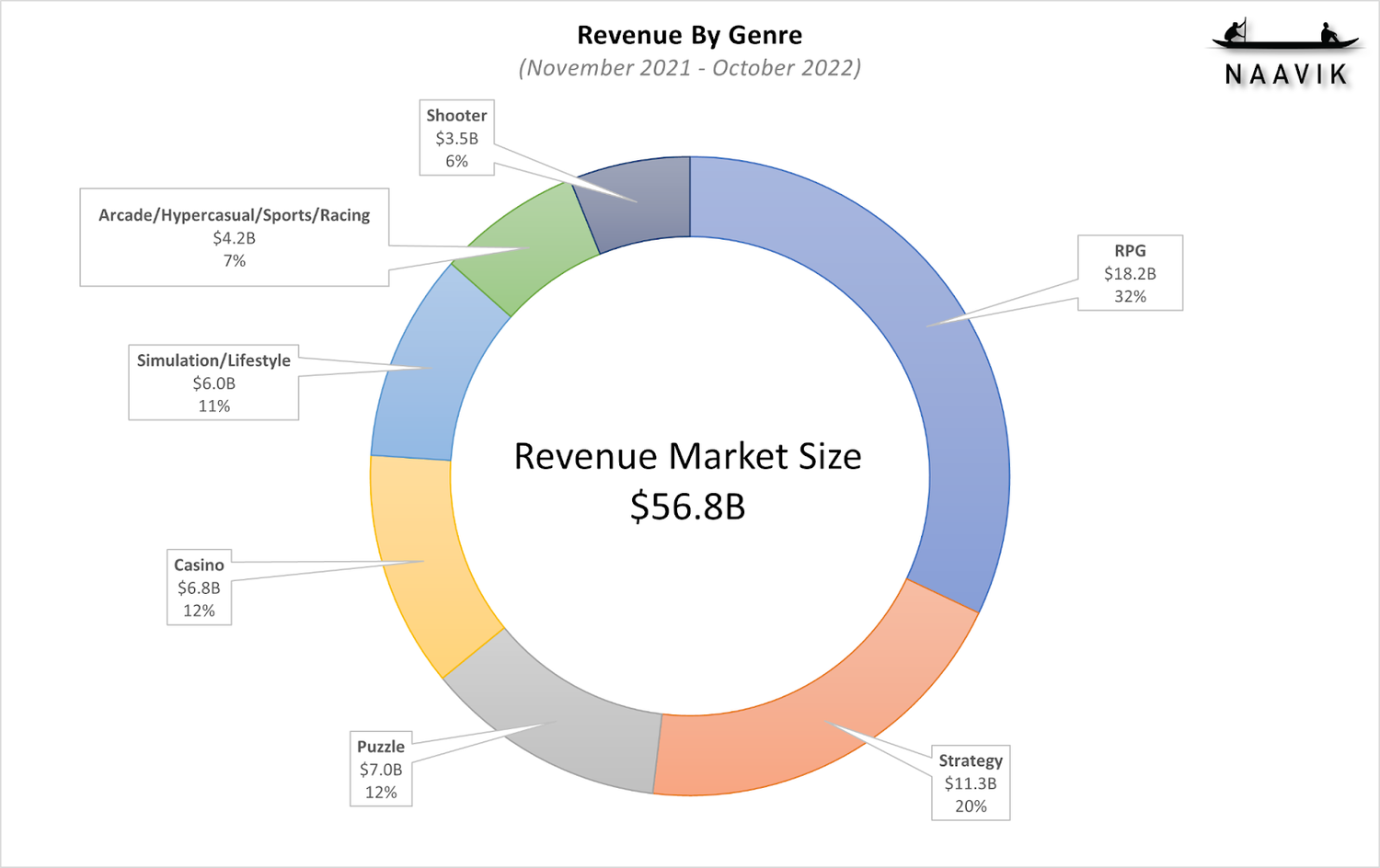 Over the trailing 12 months, Shooters have been downloaded 2.6B times, representing a modest growth of 4% year-over-year. A look at the trends shows an interesting seesaw, with downloads trending down at the start of 2021, rising up at the end, and then coming back down again in Q3 2022. The reason for the initial uplift was the global launches of Free Fire Max and PUBG: New State, which occurred in Q3 2021 and Q4 2021, respectively.
What about the big dip in Q3 of 2022? Two of the biggest contributors to that are the good launch of Apex Legends (contributing 28M downloads in Q2) that steeply decelerated (12M in Q3), as well as the banning of Battlegrounds Mobile India in Q3. This, coupled with a general drop in shooter downloads in India (the biggest country by downloads) over Q3, has resulted in negative growth. We'll continue tracking this over time to see if it is just a blip or the beginning of a trend.
The revenue trend tells a slightly different story. Shooters made $3.6B in revenue over the trailing 12 months, which is a -6% change year-on-year. The revenue outlook also looks grim, with increasingly negative growth rates. This reflects the overall state of the mobile games market, since as a whole it has shrunk by 5% YoY, which is due to a combination of a post-IDFA world impacting ROAS on user acquisition and the unsteady economic conditions triggered by a variety of factors, including post-COVID economic impacts, the war in Ukraine, and increasing interest rates.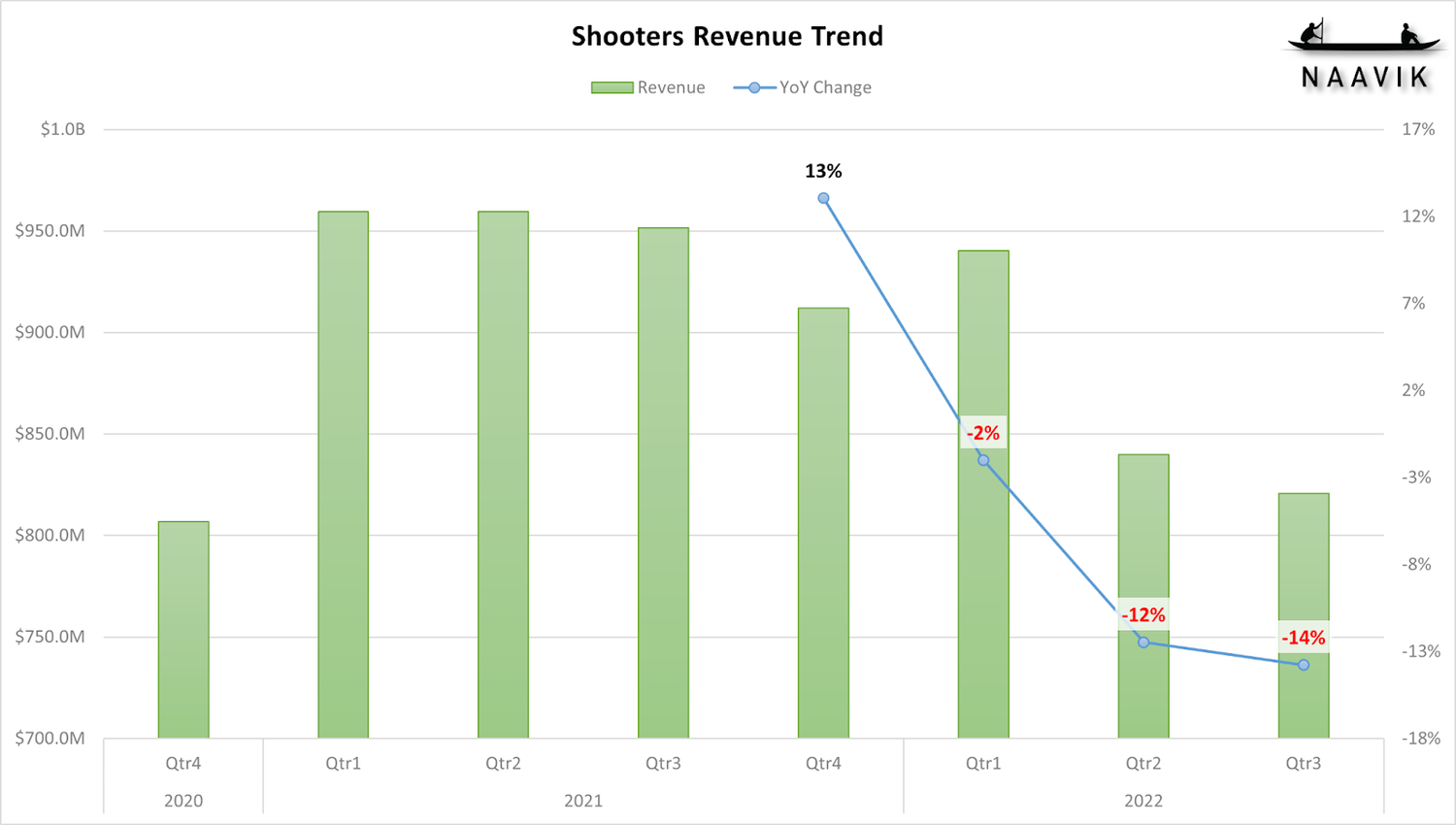 Besides the general macroeconomic trends, though, we see three events worthy of investigation. Namely, what caused the big spike in Q1 of 2021, the dip and bounce of revenue in Q4 2021 - Q1 2022, and the massive declines in Q3 2022?
The strong uplift in Q1 2022 was due to a combination of factors. First, Call of Duty: Mobile was released in China on Christmas Day of 2021, adding ~$35M in revenue over Q1 2021. Free Fire was also steadily growing in revenue from the US (its biggest region by revenue), with 28% growth quarter-over-quarter. Finally, PUBG Mobile had particularly strong updates over Q1 2021. The popular Metro Royale mode, an extraction shooter mode introduced in update 1.1 (November 2020), continued to gather momentum in January 2021 with the release of Chapter 2 of the game mode and included a new progression mechanic. There was also the game's 3rd anniversary in March, which included an anniversary party and music-themed events.
The Q4 2021 dip in revenue is also partially due to China introducing tighter game-playing restrictions on children under 18. From September 2021, minors were restricted to only be allowed to play games on Friday-Sunday for an hour each day. We can clearly see the effects on China-based games like Game For Peace and CrossFire, with revenue plummeting after the announcement.
We also see that revenue recovered after a couple months, and we speculate that compliance to the rules began to wane. According to this report from Niko Partners, 29% of youths were ignoring the restrictions and playing more than 3 hours a week, often using their parents' accounts.
The final event of note is the massive decline in revenues beginning from Q2 of this year, and this can be blamed on the general economic and structural headwinds the whole industry is facing. We touched on this lightly above, but it is a complex amalgamation of post-COVID and war-related issues, accelerating layoffs, UA inefficiencies, and budgetary pressures from rising inflation.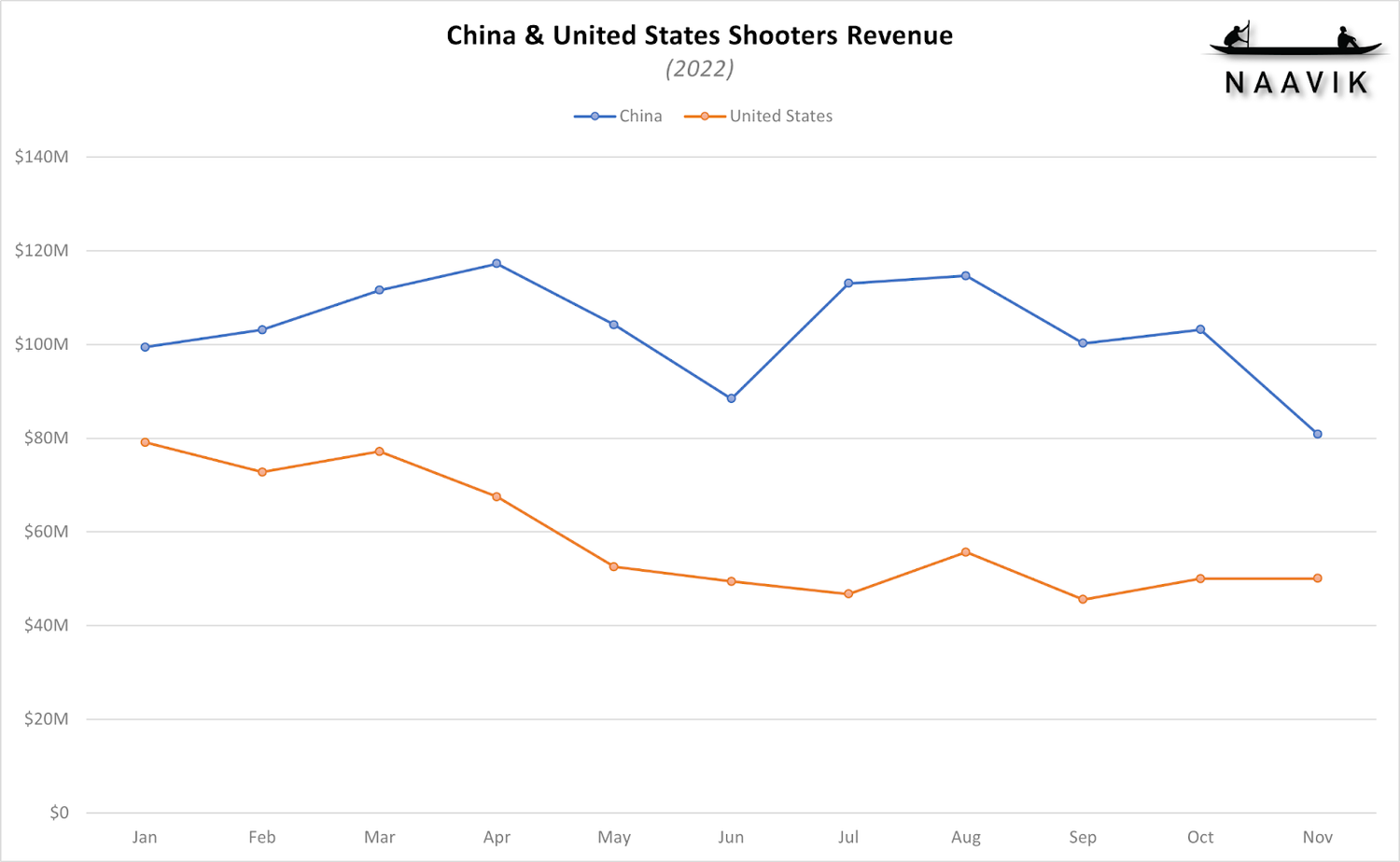 The US Federal Reserve began raising interest rates to combat inflation in March, and we can see a clear impact on US revenue in the chart below (the US and China make up 57% of the Shooter market). The significant decline in income we see from China in Q2 is the result of a weak Game for Peace update in April (the game generates 76% of all Shooter revenue in China), which increased with the June update that was timed to coincide with school holidays in July and August.
As a subscriber to Naavik Digest, you get immediate access to the full report by clicking the "Download The Report" button below. And if you'd like to share the report, please click the "Read Online" button. Enjoy the read!
Revisiting Some Popular Posts From Naavik's 2022 Archive:
🔥Featured Jobs