Hi everyone. Welcome to another issue of Naavik Digest! If you missed Sunday's issue, we shared our analysis about the mobile Match subgenre and wrote about how PlaySide Studios is successfully leveraging TikTok to turbocharge downloads of Dumb Ways to Die.
Today, we're covering the mega-launch of Hogwarts Legacy and sharing some research about how the landscape of third party mobile app stores is evolving.
Let's dive in.
Earnings Roundup: Sony, Take Two, Konami, Nintendo, and Kadokawa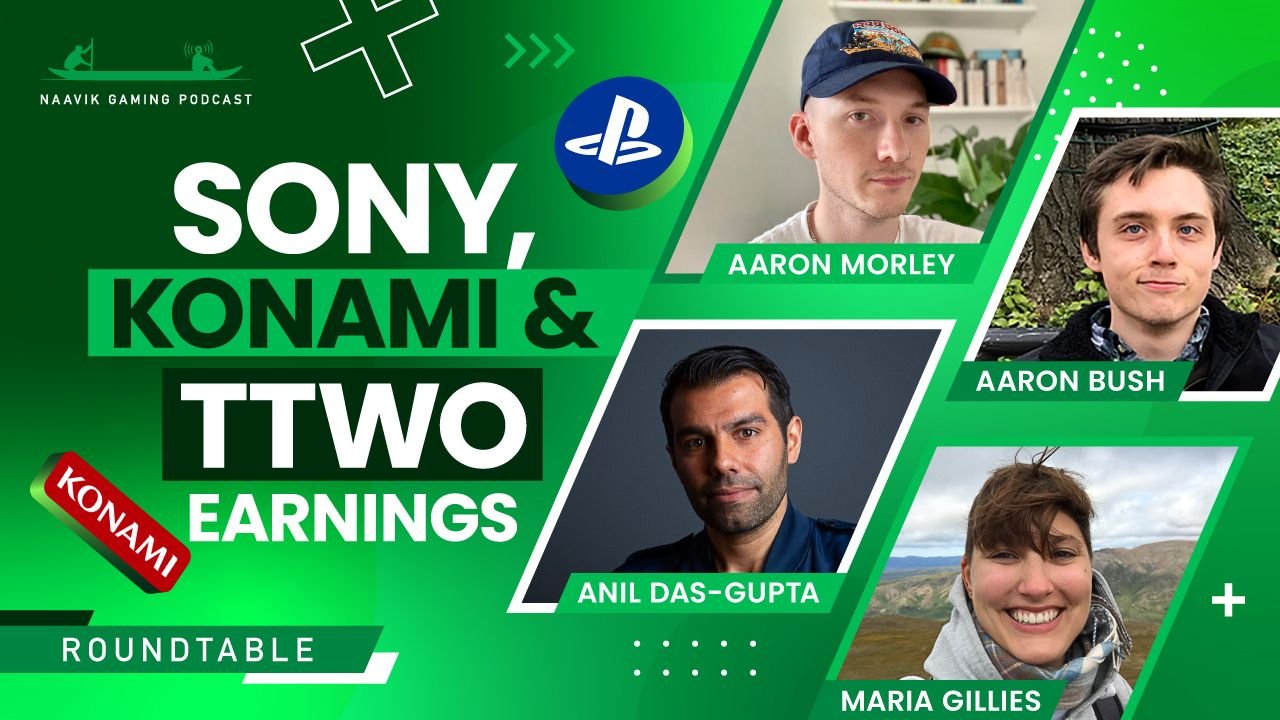 Can Sony's momentum continue? What is Konami building to justify its sunk profits? Why, according to Take-Two, is the strength of great IPs as important as ever? Why are Nintendo Switch sales slowing? And what are — or should be — Kadokawa's (FromSoftware's) next steps after Elden Ring? We dive into the latest games business news with Aaron Bush, Anil Das-Gupta, Aaron Morley, and your host Maria Gillies.
You can find us on YouTube, Spotify, Apple Podcasts, Google Podcasts, YouTube, our website, or anywhere else you listen to podcasts.
#1: Hogwarts Legacy Becomes WB's Biggest Hit Amidst Controversy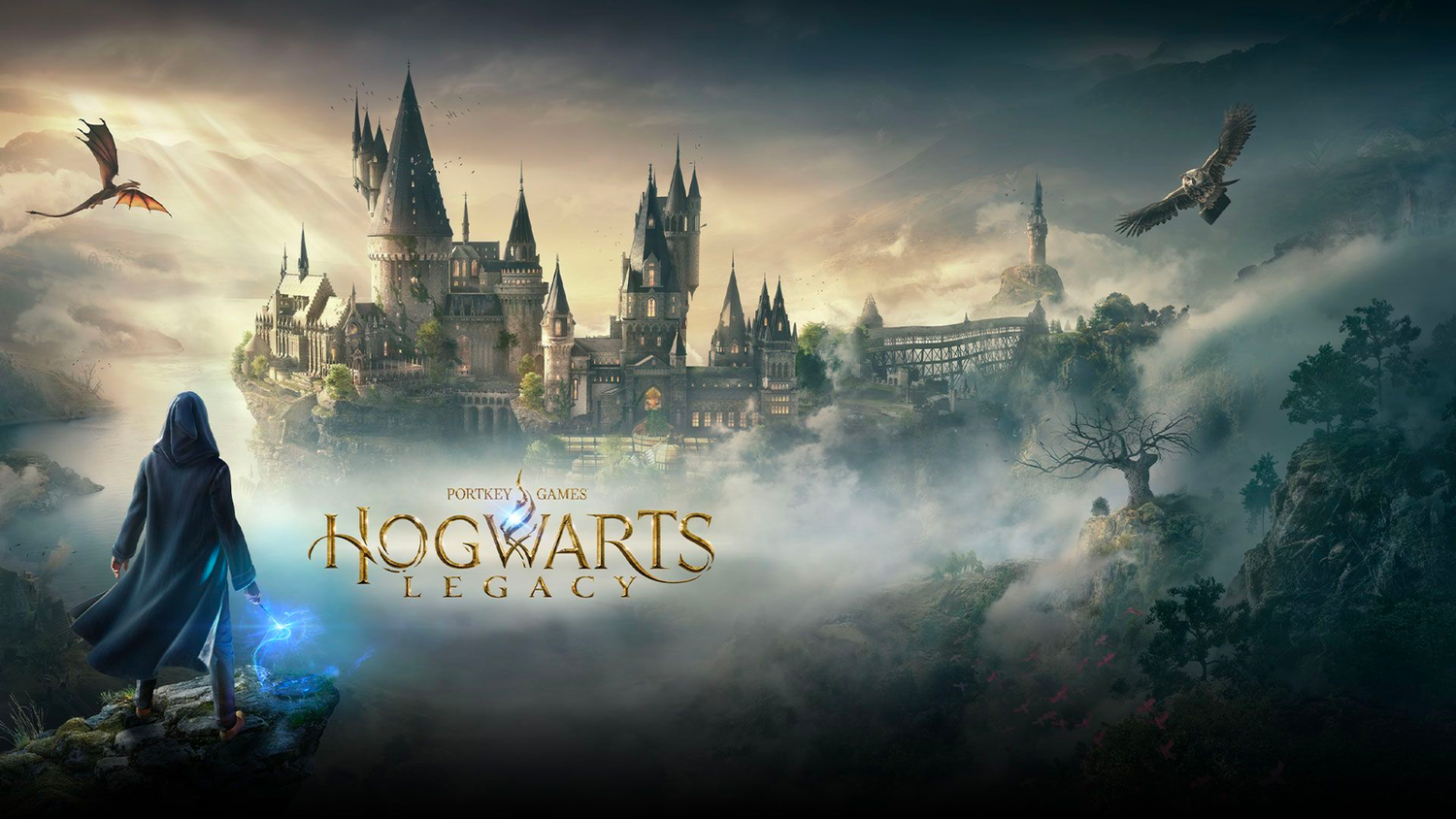 Hogwarts Legacy, a long-awaited adventure title set in the world of Harry Potter, was released on Saturday for PC and console platforms.
It's still early, but Hogwarts Legacy is already Warner Bros Games' biggest hit. Pre-order data looks more than promising, and at the time of writing, the game is sitting at respectable Metacritic scores of 83 (PC), 86 (PS5), and 89 (Xbox Series X). Both are typical early signals of great sales. Moreover, the game already became Twitch's most-viewed single-player game and is showing high concurrents in Steam despite being available only for players willing to shell extra money for the early access deluxe edition.
In summary, two things make Hogwarts Legacy successful. First, simple pent-up demand for a quality Harry Potter game and second, a good execution on the classic open-world action genre.
The Wizarding World is one of the biggest entertainment properties ever, and the success of Hogwarts Legacy only underlines how underutilized it is. It is a small miracle that the world had to wait so long for a quality triple-A game. Some may remember the movie tie-ins of the 2000s that failed to leave a lasting impression. The last action-adventure game in the series, Harry Potter and the Deathly Hallows Part 2, came out in 2011.
Hogwarts Legacy is indeed a step up from the movie games of yesteryear. While it doesn't boast the tightest moment-to-moment gameplay ever seen, nor does its writing stand out as particularly remarkable, it makes you feel like a witch or a wizard. And that's very powerful! Many of us have read or watched Harry Potter in the past 25 years. Almost as many have imagined getting a letter from Hogwarts and boarding the train from that wonkily numbered platform. Out of every Harry Potter game made to date, Hogwarts Legacy succeeds best in the player fantasy. Lastly, the IP is well-suited for an open-world adventure game. Even with its flaws, the world of Harry Potter is rich, providing players with a unique combination of familiarity and a sense of discovery.
The developer of Hogwarts Legacy, Avalanche Software (not to be confused with Sweden's Avalanche Studios of Just Cause fame), has been around since the 1990s. The Utah-based developer started out porting arcade games to home consoles. Later, it spent over a decade as part of Disney Interactive. Notably, Avalanche was the developer of Disney's toys-to-life title Disney Infinity. As Disney closed its game studios in 2017, Warner Bros snatched Avalanche which subsequently started work on Hogwarts Legacy.
As an ending note, no report on Hogwarts Legacy is complete without covering the controversy surrounding the game and the author of Harry Potter books, J.K. Rowling. Firstly, even before the game's release, there were calls for a boycott due to Rowling's transphobic statements. Secondly, the setup of Hogwarts Legacy's story has left some perceptive players perplexed: the central conflict in the game sets the player against the goblin rebellion, and 'morally good' in the game world is to side with the wizards who strive to keep the goblins enslaved.
Amidst all of the above, Hogwarts Legacy is on a path to become not only the biggest title Warner Bros and Avalanche Software have ever shipped, but it may well become the biggest game launch of 2023. (Written by Miikka Ahonen, Co-founder of Lightheart Entertainment)
GameIQ Solves The Industry's Toughest Challenges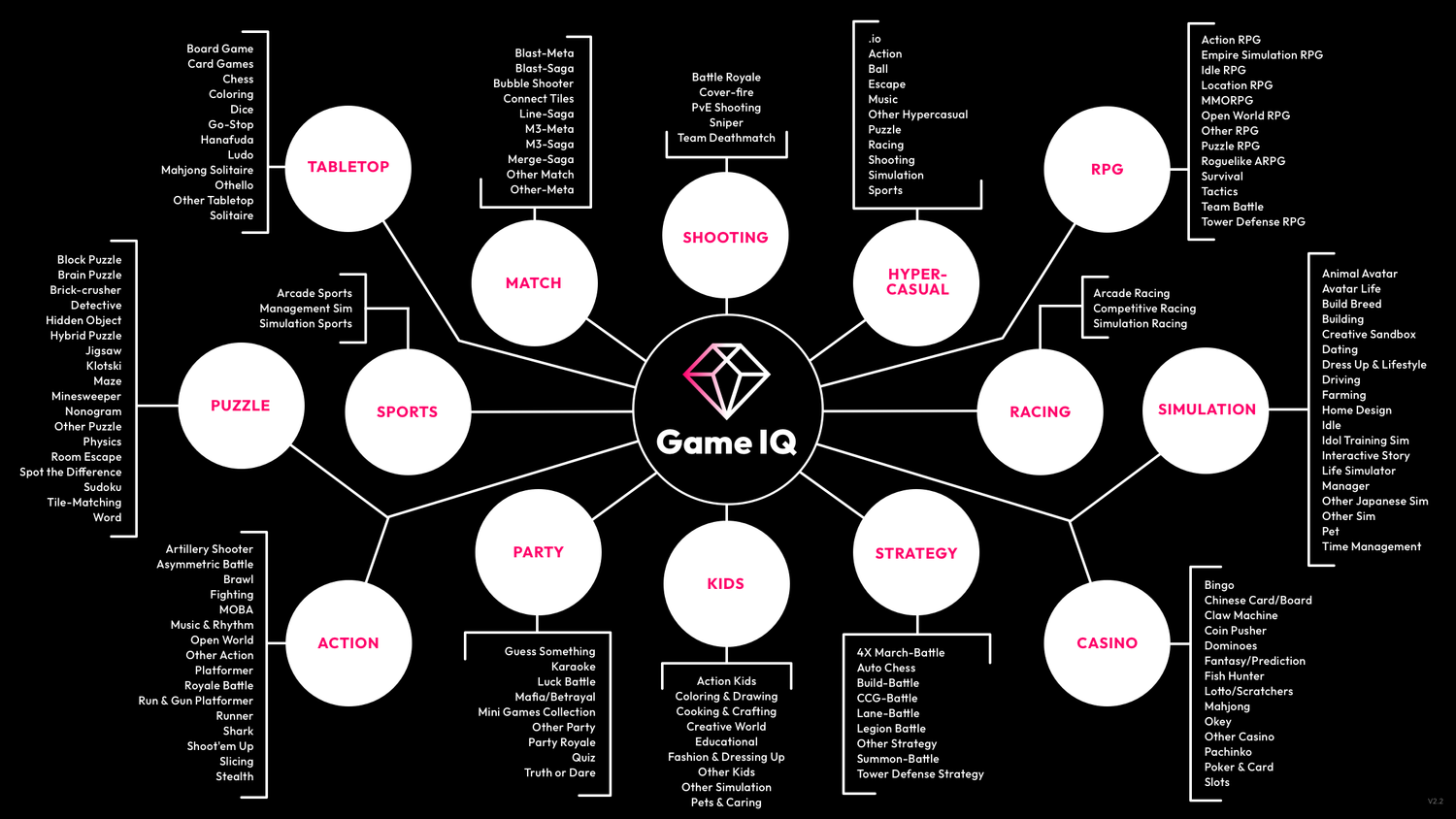 Game IQ is a market and competitive intelligence tool for mobile gaming that allows publishers to identify hidden growth opportunities, tie features to performance KPIs, and help you make difficult roadmap decisions. With hundreds of thousands of gaming apps in the app stores and thousands of new mobile games released each month, data.ai (formerly App Annie) is looking at a huge number of games to be classified. On top of this, the high granularity of our taxonomy structure makes it quite time-consuming to manually figure out into which category each game should fit.
How can we cover the vast majority of gaming apps in global markets accurately, efficiently, and in a scalable manner?
Game publishers and strategists today are facing various key challenges:
• Determining what features will provide lift
• Making roadmap decisions based on accurately modeled expected outcomes
• Discovering how competitors lifted performance through feature releases
• Benchmarking performance against competitors
• Confidently focusing on the highest potential genre for a new game release
With the enhancements we've made to data.ai Game IQ including Feature Tagging, Genre Summary, and Tag Trends, you can now effectively solve these challenges.
#2: How the Landscape of Independent Mobile App Stores Is Evolving
As Apple's complete control over iOS game and app distribution starts to weaken due to recent regulations, I thought it'd be an opportune time to dive into the current ecosystem of third-party, independent app stores. There are a wide variety of unique Android app stores that receive little attention in Western markets but are set to become increasingly important in the near future. Many of these third-party Android app stores already feature large audiences and major games, and they arguably deserve more consideration from developers than they receive.
While there are significant challenges to overcome, distribution outside of the two primary mobile storefronts can offer unique advantages to game developers, like access to new, less competitive markets, reduced platform fees, and cheaper UA. The landscape is also evolving incredibly quickly, in ways that could bring significant opportunities: some of the industry's leading companies are exploring launching their own mobile storefronts, and iOS will soon allow distribution outside its App Store in Europe.
What is the ecosystem of alternative mobile storefronts like?
Alternative app stores exist for a number of reasons:
They provide publishers an alternative to the 70/30 revenue split that the iOS App Store and Google Play offer.
Some device manufacturers want to own app distribution on their devices (instead of Google Play). This can provide them valuable user data, increase brand retention, and provide a cut of all In-App-Purchase (IAP) revenue.
They may cater to certain audiences, defined either geographically or by type of app (games, enterprise applications, etc).
These stores are important for game developers, because they offer a chance to reach new users that would otherwise be less accessible. Developers also often keep a higher revenue percentage on these stores, and apps can stand out in third-party storefronts with less competition, which is why many major developers go through the effort to publish on them.
Third-party storefronts mostly fall into a few categories: they are either operated (and preinstalled on devices) by a device OEM, a telco, or are fully independent entities. Alternative storefronts often cater to specific geographies, and some markets can be extremely fragmented. However, some of this fragmentation is more superficial than it seems: a number of independent storefronts have B2B business developing branded / reskinned app stores for clients such as OEMs, meaning that some number of stores may share substantial technical and operational components.
China's massive Android ecosystem is famous for such fragmentation; the largest store (Huawei's AppGallery) still has less than 50% of the market, with app stores from Baidu, Tencent, Alibaba, and various OEMs largely making up the rest. Some of these companies even operate multiple app stores under different brands. Chinese OEM app stores are also increasingly popular outside of China and should not be ignored by Western publishers: 10% of AppGallery's users are in Europe, and Transsion smartphones (with the manufacturer's app store pre-installed) are some of the most common devices in Africa. Chinese devices and their app stores, as well as Tencent's My App, are also commonly used across much of Southeast Asia.
Storefronts can also vary in their policies, with some stores allowing anyone to upload an APK (Android Package Kit) for immediate distribution, while others have an approval process that can take up to a few days — a familiar wait time for Google Play and iOS developers. Speaking of iOS, third-party stores do exist, but they cater primarily to jailbroken devices (at least for now).
If you open some of the top third-party stores outside of China, you'll find most of today's top games. For example, EA published Apex Legends Mobile on Aptoide, TapTap, and more, and Nuverse released Marvel Snap on Aptoide, among others. Free Fire has over 60M downloads on Aptoide, in fact. However, downloads from each of these stores are relatively minuscule compared to installs from the two main stores.
Aptoide is an especially important and interesting player in this space. Though it was founded in Portugal, today it operates mainly out of China. In addition to operating a consumer-facing app store, Aptoide develops custom app stores for corporate clients, has its own virtual currency, and runs an aggregation service called Catappult that allows publishers to distribute to over 20 (mostly Chinese) app stores with one integration.
Another intriguing example is Korea's ONE Store — the second biggest app store in the country after Google Play with 14% market share. It was formed when Korea's three major telcos and Naver, a large online platform, agreed to merge their separate app stores into a single, larger one to compete with Google Play. Since the store is owned by the telcos who sell phones to their customers, it comes pre-installed on all the Android phones they sell, and it offers publishers a 80/20 revenue split. The company has announced plans for global expansion, received investment from Microsoft, and signed partnerships with Tencent and Activision Blizzard.
Developing for multiple storefronts is not without major challenges
Alternative storefronts are unquestionably good for game developers. But it's not always easy or possible to manage the complexity and cost of supporting multiple stores, and there are significant drawbacks to consider.
Most storefronts offer significantly less robust monetization infrastructure than iOS and Google Play, both for ads and IAP. In fact, IAPs aren't even supported on many non-OEM stores like Uptodown and TapTap due to lack of proprietary payments infrastructure, meaning developers must monetize via ads, account top-ups, or use another billing method. Some stores, such as Amazon App Store and Aptoide, include their own digital currencies which users can make in-game purchases with in certain games. These currencies are either bought as top-ups or earned by watching ads.
There is also the question of managing unfamiliar technical integrations and the burden of maintaining more SDKs. This is not only operationally intensive to manage for live service games with frequent client updates, but it invites cybersecurity risks as well. Documentation is occasionally not available in English, and customer support is less reliable.
Older versions of Android are more common among users of alternative app stores. Developers will need to ensure their games support these versions (e.g, Android 6-9), which can be a significant technical constraint for engineering teams. Apps are distributed mostly as APKs instead of Android bundles, and Google Play Services, which exclusively manages some Android APIs, cannot be used. Additionally, some marketing, attribution, and development partners do not integrate with or support some third-party app stores, meaning publishers may have to do this work internally.
Even if a developer figures out technical solutions and can accept the operational complexity and risk, they will find installs from third-party app stores retain and monetize at lower rates than those from the two main stores. Some of this is due to the complexity of completing IAPs outside of the mainstream app stores, but it's also true that most users of alternative storefronts are in emerging markets, possibly with less performant hardware, where it's reasonable to expect lower average monetization rates.
But the opportunities can still be significant
Despite these hurdles, developers can find success by publishing on alternative storefronts for a number of reasons. EA, Garena, Supercell, and many others push their games to a number of storefronts, despite the challenges described above.
Large audiences can be reached with much less competition than on iOS and the Google Play Store. While many of the major gaming companies are present on many app stores, the absolute number of apps on each alternative store is considerably lower than on iOS or Google Play. This means a greater chance of organic discovery and less competition - especially if your main genre competitors are not on a particular store. Publishers can also benefit from unique editorial and curation placement that would not be as accessible on one of the two main stores, bringing more visibility to an app.
Amazon Appstore in particular offers a unique monetization potential for publishers, with some reports claiming ARPU across the store is 3x greater than on Google Play (and only 11% less than on iOS). 80% of users are based in the US as well, while most other alternative app stores are in Asia.
New services are springing up that aggregate publishing to multiple stores as easy as uploading an APK or integrating and maintaining just one SDK. Companies like GameBake and Catappult (part of Aptoide) abstract away all the complexity of multiple store submissions, SDK integrations, and more, and make it very easy and straightforward for publishers to release their games to dozens of stores at once, while maintaining most of the incremental revenue for publishers.
How will these businesses succeed?
In order to be successful, third-party app stores must carefully manage both supply (apps) and demand (users). On PC, we often see storefronts focus on supply, through exclusive or discounted games. On mobile, most storefronts today instead focus on cultivating a distinct user base into which Google Play has less penetration. Often, this means a user base defined by geography or hardware. In the future, mobile storefronts may continue to use localization as a lever of differentiation by integrating local payment methods and ad networks (which benefits both users and publishers). Of course, a better bargain than the typical 70/30 revenue split will also attract publishers.
Many third-party app stores also monetize publishers by offering guaranteed installs for an upfront cost, though typically these users are fairly low value in terms of retention and monetization. This is a revenue stream that separates them from Apple and Google, who monetize their stores only through commissions and ads, and it allows independent stores to offer better commission rates by getting upfront payments from publishers, who also appreciate the low CPIs for assured installs. However, this strategy will only work if the store can offer a differentiated, valuable audience; otherwise, commodification of low-quality installs will erode the stores' pricing power and make it a buyer's market.
Exclusive or discounted content, similar to the practices of PC storefronts, is another frontier for mobile stores. However, at their current scale, no independent store could hope to bag a high-profile exclusive; it simply wouldn't make economic sense for a publisher to give up the massive mainstream audiences of the App Store and Google Play. Furthermore, many of the big publishers want to launch stores of their own, despite publisher-operated storefronts on PC remaining a somewhat tricky business.
As competition in this space heats up, it will be increasingly important for independent stores to cultivate unique and valuable audiences to differentiate themselves and retain pricing power when monetizing through commissions, ad sales, and guaranteed installs. Apple and Google's very high commissions are likely maintaining the profit margins of the entire industry, for the moment since there is little pressure to price commissions significantly lower than that. Most stores take 20% or 30%, though a select few take as little as 10%. In my mind, storefronts that identify and cater to specific user needs, such as through localized payments/bandwidth constraints/language, can increase the value of those users and attract publishers. Offering quality monetization and analytics tooling, which many independent stores struggle with, will be a further point of differentiation and therefore success.
The future of iOS distribution - open or not?
The European Commission's Digital Markets Act (DMA) mandates that Apple must allow users to install apps on iOS from sources other than the App Store. As the law goes into effect in 2024, this functionality is likely to ship with the upcoming iOS 17, but the wording of the law is not clear as to what extent Apple will have to allow sideloading and alternative storefronts. iOS may end up resembling how Google technically allows third-party apps and app stores on Android but makes it difficult for users to access them. Even if this highly constrained version of 'opening up' iOS comes to pass, it may still be an attractive opportunity for independent storefronts and publishers.
Whatever the case, Apple will likely do the bare minimum and try to retain as much control and revenue as possible. They are likely to delay implementing whatever solution they develop as long as possible, and to appeal the act in the courts as much as they can. Apple will also be reluctant to extend whatever functionality they build to other geographies unless they are forced to. However, in the US, a similar law (the Open App Markets Act) is progressing through Congress.
Apple's handling of a 2021 order from the Netherlands' competition authority to allow dating apps to use alternative payment systems provides a likely roadmap for how it will approach the DMA mandate, though one that will inevitably disappoint prospective independent storefronts and publishers seeking to avoid paying Apple's steep commission.
Apple responded to this order by making the process for developers to implement alternative payment systems very arduous, and only reduced its commission on purchases by 3% for payments made using third-party services, claiming the remaining 27% commission was justified for allowing publishers access to the iPhone (and its attendant audience) as Apple's intellectual property.
Why don't we see this dynamic in Android? The key difference is that Android has hundreds of OEMs which can ship devices with their app stores and payment methods pre-installed, while iOS only has one device manufacturer. Still, the lucrative iOS market will doubtlessly attract independent app stores, and companies like Microsoft and Epic have already expressed a desire to operate mobile storefronts. Even if Apple adds significant friction to the user experience of accessing third-party new app stores, and commissions remain almost unchanged, the ability to directly own the distribution relationship with high-value iOS users might be worth it for some.
As we consider the current landscape and evolution of third-party app stores, developers should consider what benefit they want from these storefronts. Regional growth? Cheaper UA? Better discovery? It can make sense to focus on a particular store, or to consider using an aggregator that can publish to multiple stores to reduce the significant operational burden (though of course this comes with a cost). At the very least, experimenting with current third-party stores can provide new sources of installs and prepare developers for the potential of new mobile storefronts from big publishers and PC/console distributors, on both iOS and Android. However, developers should be cautious about the degree to which iOS will open up, in Europe or elsewhere, for the foreseeable future - though how European courts interpret the DMA and whether the Open App Markets Act proceeds in the US are important factors to watch. (Written by Carson Taylor)
In Other News
💸 Funding & Acquisitions:
📊 Business:
🕹 Culture & Games:
👾 Miscellaneous Musings:
Stream Hatchet published its annual live streaming report. Link
Trailmix's Philippa Layburn on Identifying Winning Creatives. Link
The 30 Year History of Crystal Dynamics (Noclip Documentary). Link
This Week In Naavik Pro
Looking for more great games industry analysis? Check out Naavik Pro!
In the past couple weeks the Naavik Pro team published:
An incredible 100 page report on the mobile puzzle genre. This includes analysis of the top performers, regions, notable events, as well as deep insights on each major subgenre: Match, Merge, Word, Solitaire, Hidden Object, and more.
Two research essays: A primer on designing effective matchmaking systems, plus coverage on the intersection of web3 and FPS, including insights on two leading contenders: Last Expedition and Shrapnel.
Analysis on Coin Master's notable performance, EA's sunsetting of Apex Legends Mobile and Battlefield Mobile, Fractal's move onto Polygon, Gala Games' 2023 plans, and more.
Updated game radars with takes on Subway Surfers Blast, Pucca Puzzle Adventure, Squad Busters, and Avatar Generations.
This upcoming week, we're publishing a game deconstruction on Mobile Legends: Bang Bang, a new web3 game radar (covering Champions Ascension, Delysium, and Galaxy Fight Club), an analysis of the top games on Roblox, our January web3 gaming monthly update, and updates on Rovio's earnings, Mini Royale: Nations, and MIR M.
If interested in learning more or signing up, get a demo below.