Bandai Namco, one of the largest game publishers in Japan, has trounced its Western gaming counterparts in recent years. Over the five-year period ending September 8th 2023, its Tokyo listing returned 157.5% (20.8% annualized), more than tripling the return of the Nikkei 225, Japan's stock benchmark. Peers Konami and Nintendo have fared worse, but still outperformed the benchmark, while Capcom has fared much better. Capcom is one of the best gaming performers globally: you can read our coverage on the company's remarkable decade here.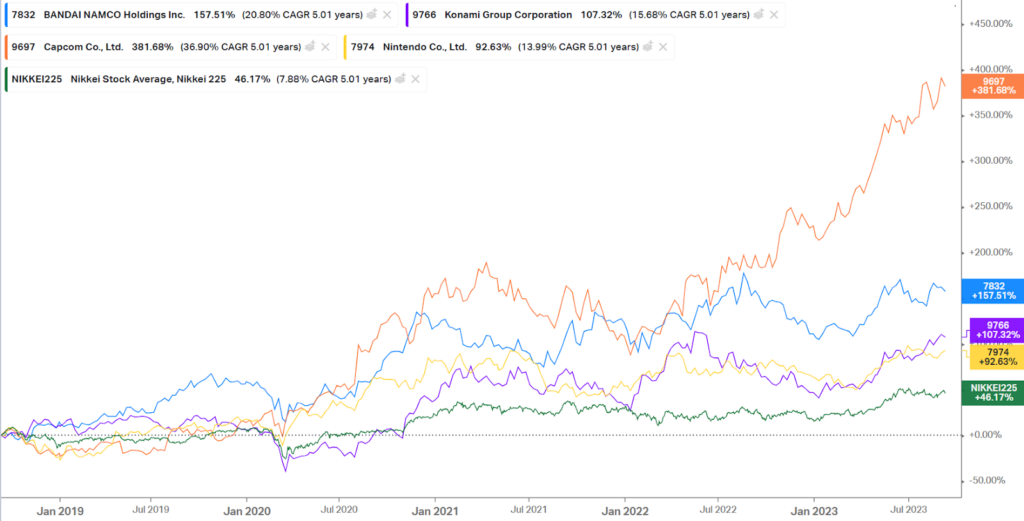 The company is comprised of four major segments: Digital, Toys and Hobby, IP Production, and Amusement. The Digital business contains Bandai Namco's video game subsidiaries.
In the latest quarter, Bandai Namco's Toys and Hobby segment grew 26.9% year-on-year; it made up more than half of the Group's net sales and almost all of the operating profit. Bandai Namco cited continued favorable results in its card products and capsule toys for its older fanbases.
The firm's One Piece card game has sold well in Japan and the West since its release a year ago. The game has a dedicated site and already features large scale tournaments in multiple regions, culminating in an annual World Championship in Japan.
The newest Tamagotchi line, dubbed the Uni, launched in July to positive reception. These are physical toys with a digital component, the Tamaverse, which allow for global connectivity with friends. Both One Piece and Uni's success should mean continued tailwinds in the segment.
The core of the Amusement segment is Namco's arcade centers, known as "game centers" in Japan, which play a central role in Bandai Namco's domestic business strategy. In the latest quarter, Amusement contributed about 13% of revenue and 11% of operating profit.
Bandai Namco also has a unit exclusively dedicated to IP production. Bandai Namco owns or has the rights to some of the most beloved and recognizable IPs within anime and gaming. Dragon Ball, Gundam, Tekken, Pac-Man, and One Piece have massive global fan bases, ensuring consistent revenue from merchandise, games, and other media. This R&D heavy segment does not produce much profit but has paid dividends for the entire company.
The Digital segment contains the gaming properties that Bandai Namco is perhaps best known for – but it was the worst performing part of the business last quarter. Sales shrank by 24% from 89.5B to 68B yen while operating profit fell a drastic 91% to just 2.6B. Given this decline, it is noteworthy the Group as a whole was able to grow net sales (albeit marginally by 4%).
A number of factors contributed to this decline. Back catalog sales were weaker than expected after strong performance the previous quarter (primarily from Elden Ring). The company also noted the "increasingly competitive global market environment."
Bandai Namco's gaming business is centered around a number of core franchises. Arguably its five most popular are Pac-Man (the company's official mascot), Tekken, FromSoftware's "Soulslike" games, Tales (action RPGs similar to Final Fantasy), and Soulcalibur (a fighting game series with weapon-based combat).
Bandai Namco did not have any notable video game releases in the quarter. However, it's important to note that its games business shares the same cyclicality as large publishers like Activision Blizzard and EA. Bright spots ahead include FromSoftware's Armored Core VI, which will be included in the current quarter's results. The game was published on August 25th to great reviews, resulting in >150k concurrent players shortly after launch on Steam.
Preliminary physical sales results show the game was #1 in the UK and Japan during launch week, with the PS5 taking 64% of unit sales. While not a soulslike, Armored Core VI represents a rebirth for the Armored Core franchise, which hadn't seen a new game in over a decade. Bandai Namco's partnership with FromSoftware is one of the most successful of the last two decades; the developer was most recently valued at $864 million, after Sony and Tencent acquired a sizable minority stake last August.
Its video game business should also benefit from Tekken 8's launch in January 2024. The series has a strong core fanbase and will benefit from a multiplatform release. Bandai Namco has confirmed that it will feature a more extensive story mode than its predecessor in response to fan feedback. The expansion was facilitated by a much larger development budget, which likely also depressed segment profit in the previous quarter.
Like much of the company's IP, Tekken has benefitted from adaptations in the other segments. On the anime side, Tekken: Bloodline premiered on Netflix last year, and a new series may follow in the wake of next year's installment as well.
Bandai Namco's diverse operations, encompassing video game publishing and development, toys and hobby, media production, and amusement rides, have granted it resilience and flexibility. Its strategic investments in evergreen franchises and a commitment to fan feedback underscore a keen understanding of its audience. Even with short-term challenges in Digital, its approach to media integration sets it apart from traditional gaming studios.
Through the rest of the decade, Bandai Namco has three important factors that set it up for growth. Its core franchises will all see one or more new titles published, which are likely to succeed given the company's history of tight execution and its series' devoted fanbases.
Its partnership with FromSoftware appears to be rock solid, with Bandai Namco keeping up with the developer's prolific pace of ~1 title per year (excluding pandemic years in 2020 and 2021). Lastly, its One Piece live action series has proven that even its most eccentric properties can be successfully adapted for television or film. The series currently holds a rating of 8.5 on IMDb after 70k reviews and is the most popular TV show on Netflix as of the week ending September 10th.
More Players. More Payers. Less Lift.
Since 2011, Coda has been the streamlined partner for secure, compliant monetization solutions and scalable, direct-to-consumer expertise across gaming, live streaming, and more. Trusted by some of the biggest names in publishing, including Activision Blizzard, Riot Games, Moonton, Garena, Tencent, and Tinder.
Coda offers both B2C and B2B solutions and products, such as Codashop and Codapay, helping partners grow revenue, profit margins, and customer engagement in 60-plus countries and territories with ease.
Wherever you are in your go-to-market and monetization strategies, let Coda do the heavy lifting so you don't have to.
#2 Gaming Market Update: September 2nd-8th
For the week ending September 8th 2023: The average return for gaming companies tracked by Naavik with a market capitalization exceeding $500m was -1.4%. The S&P 500 returned -1.3% and the Nasdaq-100 returned -1.4%. Full access to the Naavik Gaming Company universe is available here.
Nazara Technologies (NSE: NAZARA), an Indian mobile gaming and sports media company, rose 15.4% after it received new institutional funding. On September 4th, the company announced it would receive $12.1 million from the co-founders of Zerodha, Nikhil and Nithin Kamath. Zerodha is the largest discount broker in India, handling millions of trades daily with low fees. Then on September 7th, it revealed an additional $49.4m in funding from the country's largest mutual fund company, SBI MF. While both of these deals are dilutive, investors cheered the vote of confidence in the company displayed by such high profile parties. The company said it will deploy these funds to make strategic acquisitions. The Indian video games market is one of the fastest growing in the world and is forecast to reach $8.6 billion in revenue by 2027, up 230% from $2.6B in 2022.
IGG Inc (SEHK: 799) fell by -7.3% following the release of its interim results for its six month period ending June 30th. Net losses more than tripled year-over-year from HK$ -105m (-$13.4m) to HK$ -334m (-$42.6m). Overall revenue rose less than 1%. The reason for the wider loss is due to selling and distribution expenses rising 85% from the same period a year prior, as marketing campaigns were launched for its two new mobile games, Doomsday: Last Survivors and Viking Rise. Both games had strong billings, but were not enough to offset the 17% top line decline in the company's flagship title, Lords Mobile, which is in its seventh year of life. Lords Mobile has gone from comprising 81% of overall revenue to 66%, while Doomsday and Viking Rise make up 10% and 5% respectively.
Notable Venture Financing Deals
Story Protocol, a blockchain-based IP platform, announced the completion of a $25m Series A round. The round was led by a16z crypto and follows a $29.3m seed round in May. Other investors included Samsung Next, Paris Hilton's 11:11 Media, and Dapper Labs CEO Roham Gharegozlou. The company is designing a platform to manage the IP development lifecycle and will include features such as revenue sharing, straightforward licensing, and provenance tracking. Seung Yoon Lee, the co-founder of Story Protocol, stated that these aspects are challenging for Web3 marketplaces like OpenSea and can only be accomplished via blockchain technology.
The protocol's objective is to create a diverse ecosystem that includes third-party developers and offers services like crowdfunding, IP discovery, AI content authentication, and more. Story Protocol equates its vision to being "Git for IPs," focusing on ownership and incentives in the digital age, and especially in the era of generative AI. By providing a base layer for IP applications, Story Protocol aims to attract developers to design services that benefit creators and artists, while also eliminating the risks associated with being bound to a single platform.
Gam3s.gg (formerly Polkastarter gaming) raised $2 million in seed funding. The round was led by Mechanism Capital and includes participation from numerous web3 VCs and DAOs. The platform claims it is the largest hub for web3 gamers, with over 200 games across 15 chains and 60,000 registered gamers. Within its hosted titles, the platform also hosts "Quests," which allow players to complete in-game challenges to accumulate rewards on the platform. The funding will be used to add "advanced features" such as social logins, player-owned item management, progression rewards, and the ability to play web3 games directly on the platform.
Notable Strategic Investments
Tencent subsidiary Sumo Group acquired Midoki, a UK-based mobile games studio. The financial terms of the deal were undisclosed. Midoki is best known for their freemium builder-battler Plunder Pirates, which launched in 2014 on iOS and 2015 for Android. The game was originally published by Rovio but moved on to self publishing in 2017. According to data.ai, the game has been downloaded 8.8m times to date with net cumulative microtransaction revenue of $11.4m. Midoki's newest project, Knighthood, is a mobile turn-based RPG that was released in 2020. It has generated 7.3m downloads and $21.5m in revenue to date. The studio also shares co-development credits with SEGA Hardlight on Crazy Taxi City Rush.
One of Midoki's most valuable assets is the Midoki Development Kit (MDK), which was used to develop its latest two titles. This technology supports cross-platform libraries that are specially optimized for platforms including iOS, Android, Apple TV, VR, and AR. The kit comes with a battle library called Mars, a UI layout tool Mercury, and a networking solution Jupiter. MDK is built for liveops, an area Tencent is actively looking to expand as it grows its mobile portfolio.
Dutch publisher Soedesco acquired its development partner Kyodai, the Bulgarian studio developing Truck Driver: The American Dream. The truck simulation game is set for release on September 22nd for Xbox Series X/S and PS5, and it's been marketed by both Microsoft and Sony. Soedesco's founder and CEO, Soedesh Chauthi hailed the deal as part of the publisher's global expansion strategy. The co-CEOs and founders of Kyodai, Todor Todorov and Ivaylo Koralsky, said the studio would continue to operate with creative independence. The specifics of the acquisition weren't revealed, but it was confirmed that Soedesco purchased 100% of Kyodai's shares.
Atari purchased AtariAge, a forum and news site focused on retro Atari hardware and software. Founder Albert Tarusso will take on a new role at Atari as its "internal historian." Atari says that it will improve the website and invest in the user experience similar to MobyGames, the online video game database it acquired in March 2022.
Featured Jobs
You can view our entire job board — all of the open roles, as well as the ability to post new roles — below. We've made the job board free for a limited period, so as to help the industry during this period of layoffs. Every job post garners ~50K impressions over the 45-day time period.