Remedy shares have hit a 17-month high after Alan Wake 2 released to overwhelming critical praise on October 27, scoring a 91% on OpenCritic and 89 on Metacritic. The game and its marketing were fully funded by Epic Games, and on PC it was released exclusively on the Epic Games Store, with Remedy entitled to 50% of the net revenue once Epic recoups its investment (details of these developer friendly terms here). The survival horror sequel was also released for consoles, of course.
Remedy's years-long journey to the release of Alan Wake II also takes in the emergence of the Remedy Connected Universe – or the RCU, as coined by Remedy itself. So let's take a closer look at how the RCU is transforming Remedy's business today and beyond.
A Powerhouse of New IP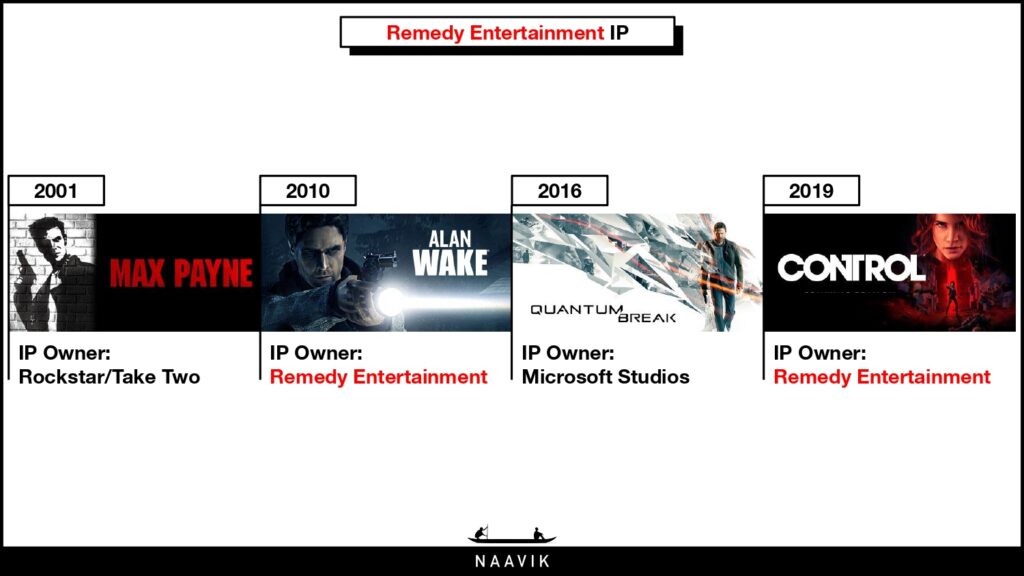 Remedy scored its first big hit with the release of Max Payne in 2001. The studio worked with Rockstar for the console port, and later Rockstar's parent company, Take-Two Interactive, acquired the rights to the Max Payne IP for $10M. A sequel was part of this deal, but it sold poorly despite critical acclaim, and Rockstar later took the development of Max Payne 3 in-house, with Remedy in a light consulting role.
After working for seven years on Max Payne, Remedy spent six years working on the first Alan Wake game, partnering with Microsoft Game Studios as its publisher. Microsoft was not interested in pursuing a sequel, however; unlike Max Payne, Alan Wake was written with room for multiple sequels. Instead, Microsoft later worked with Remedy to create a new transmedia IP that became Quantum Break.
In 2017, Remedy launched an IPO on the Nasdaq First North Finland exchange, in part to raise funds for multiple development projects. In 2018, a TV show for Alan Wake was announced, and in 2019, Remedy bought back the publishing rights for Alan Wake from Microsoft.
505 Games provided publishing and marketing support for Remedy's next big IP, Control, which was released in 2019 to critical and commercial success. Control's second expansion formally introduced the RCU: "AWE", released in 2020, was Remedy's first explicit crossover event connecting Alan Wake and Control.
In a blog post discussing the expansion, the company teased: "What if there's actually been a plan in place for over a decade on how some of our games are connected – a Remedy Connected Universe, if you will – and payoff for certain things is … down the line?"
The RCU
Control established the rules of this grander supernatural universe. And while the first Alan Wake game took place within the RCU, The games don't answer larger mysteries, though they do provide some context to the nature of those events.
Within the RCU, the events of Alan Wake I are loosely known as an Altered World Event (AWE): occurrences that alter reality in unpredictable and dangerous ways. The Federal Bureau of Control is tasked with their study and containment. In Alan Wake II, the FBC from Control is a constant presence, and there are several other cross-universe references.
Following Alan Wake II and the upcoming Control 2, Remedy is developing an RCU-set multiplayer spinoff with 505 Games, codenamed Project Condor. Remedy is also working on a live service title, codenamed Vanguard, with Tencent after the Chinese giant acquired a minority stake of 3.8% in Remedy in 2021. Also, in partnership with Rockstar, Remedy plans to release Max Payne 1 & 2 as a single title remade in its current game engine.
The Not-So-Secret Sauce
An estimated €50M budget makes Alan Wake 2 the most expensive cultural product of all time in Finland. Finnish culture has always been part of Remedy games, and Martti Suosalo's portrayal of "Ahti," the mysterious Finnish janitor from Control, has won Suosalo a BAFTA. Sami Järvi, often referred to by his pen name Sam Lake (Järvi is the Finnish word for lake), is the creative heart of the RCU. Starting out at Remedy as a writer, Järvi became the face for titular character Max Payne to keep the project within budget. Järvi has since helped create the worlds of all Remedy games.
"Over the years, I have woken up to the fact that we have an absolutely amazing culture in Finland, which is a great asset," Järvi has said. "It allows you to stand out in the market and is considered very exotic internationally." Alan Wake II goes even further into Finnish culture by setting part of the game in a small town in Washington state founded by Finnish immigrants. Järvi's interview on AW2 and the RCU can be read in full here.
With 505 Games funding the Control universe of games, Epic backing the Alan Wake universe, and Remedy opening a new studio in Sweden, the RCU is primed for scaling up and potentially becoming a leading IP universe.
Since 2016, Remedy has transformed into a multiproject studio with greater financial stability, diverse partnerships, and the freedom for employees to pick which projects they work on. With the release of Alan Wake II, Remedy's RCU titles are the tentpole titles holding up the studio's other experimental expansions into new genres and different markets around the world.
A Word from Our Sponsor: Lake Star
Partners to the World's Tech Entrepreneurs
Lakestar is one of the leading pan-European venture capital firms. Lakestar's mission is to find, fund, and grow disruptive businesses that are enabled by technology and founded by exceptional entrepreneurs in Europe and beyond. Founded by Klaus Hommels, the team's early investments include Skype, Spotify, Facebook, and Airbnb. Since raising its first fund in 2012, Lakestar manages an aggregated volume of over €2.8B across both early and growth funds.
The team actively advises and supports portfolio companies in marketing, recruitment, technology, product development, and regulatory insight, accompanying founders from seed to early-stage, growth stage, or exit. Lakestar's Games and Media team has made 18 investments, including in 1047 Games, Zebedee, Modulate, and Trace.
Insomniac Delivers a Marvel in Spider-Man 2
Developer: Insomniac
Publisher: PlayStation Studios
Platform: PS5
Genre: Open-world action-adventure