The emergence of smartphones and app stores a decade ago marked the beginning of a seismic shift in the gaming industry. As the years rolled on, it gradually became clear that mobile gaming would grow to become the dominant gaming platform both in terms of reach and revenue.
This new and massive market opportunity wasn't something that the major PC/Console video game publishers could justify ignoring. Most of them made efforts to break into the mobile market, unlock significant revenue drivers and achieve staying power. But success proved harder to capture than it looked, and most large traditional publishers still haven't cracked the mobile market in a sustainable and scalable way.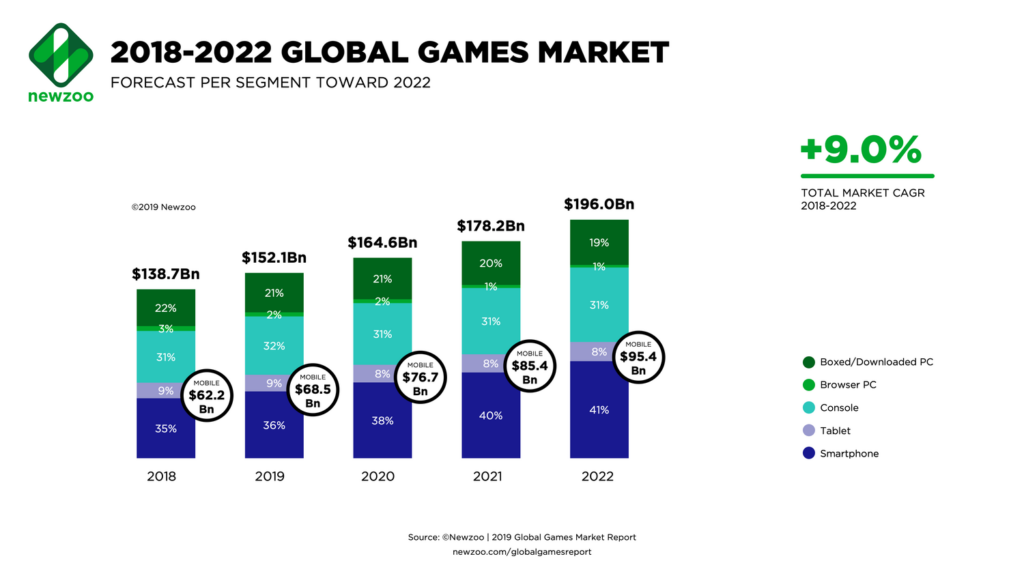 Today, two big trends are noticeable among various PC/Console-focused publishers -
The implementation of free-to-play mechanics in PC/Console titles
Continued efforts to grow a mobile business
We explore the second trend, with the key questions being - can traditionally PC/Console-focused publishers actually achieve scalable and sustainable mobile success? And if yes, what strategies and tactics can they use to get there?
While the answer to the first question is a simple "yes", the second question is more complex. After analyzing three major PC/Console publishers who found respectable mobile success, we developed a business strategy framework called the "6 Paths to Mobile", which helps answer the second question in a more structured fashion.
Introducing the "6 Paths to Mobile" Framework
The "6 Paths to Mobile" framework has two key elements -
Strategic Paths - Distinct business opportunities to capture the mobile market
Evaluation Lenses - Key vectors to evaluate the effectiveness of each Strategic Path
In other words, the Strategic Paths help aspiring businesses map out exactly where to find mobile success, while the Evaluation Lenses help those businesses understand where they currently stand on that map.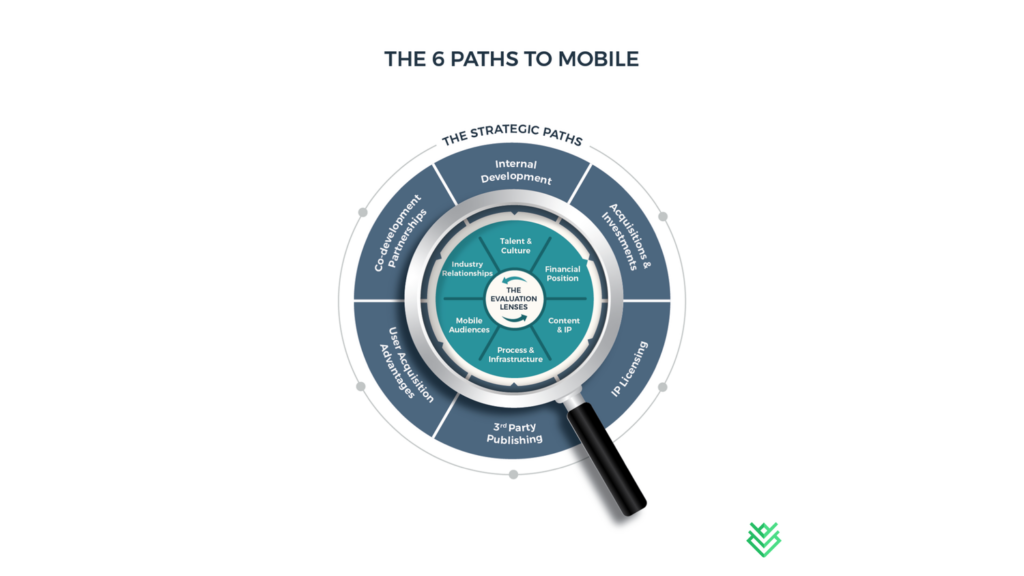 Here is a quick summary of how we define each of the Strategic Paths and Evaluation Lenses -
Before diving deeper into defining the framework, it is important to understand that the framework design was driven by our analysis of three major PC/Console publishers who found respectable mobile success. So let's understand these three stories first.
Case 1: Warner Bros. Interactive Entertainment
Warner Bros. started its video game journey in 2004 by founding Warner Bros. Interactive Media — now called Warner Bros. Interactive Entertainment (WBIE). Between 2004 and 2010, WBIE mainly focused on building a strong foothold in the PC/Console market. However, with mobile gaming growing more relevant, WBIE proactively expanded its focus in the 2010s. Although it took several years to find scalable success, the team eventually captured massive mobile revenue growth starting in 2017.
A mix of Strategic Paths were used by WBIE to get to this point, with "Internal Development" and "Acquisitions & Investments" being very lucrative during the High Growth Phase. We were not able to source revenues through "IP Licensing", but given the number of popular brands Warner Bros. has at hand, it's safe to assume this Strategic Path played a role too.
Pre-2017: The Low Growth Phase
Pre-2017, WBIE's mobile revenue graph was dominated by Internal Development. And as you can tell by the mostly flat blue line above, WBIE hadn't yet figured how to scale its mobile success. Many titles were released, but all of them followed a similar trend: an IP-fuelled monster release quarter followed by an inability to scale revenues over its lifetime. Further, when splitting out Internal Development revenues by internal studio, it also becomes clear that NetherRealm Studios and TT Games were major contributors to the pre-2017 numbers above. In other words, even though the individual game concepts were great and popular IP helped ensure hit launches, longer-term live operations and growth scaling activities were conundrums throughout WBIE's key internal development efforts. Major changes were needed and on the way.
Post-2017: The High Growth Phase
So how did WBIE turn its mobile fortunes around? As seen in the earlier graph, WBIE's High Growth phase is marked by rising revenues from Internal Development and Acquisitions. When splitting those revenues out by studio, two studios and specifically two top grossing games contributed to WBIE's mobile turnaround -
Golf Clash - an Arcade Sports title by Playdemic, which was acquired by TT Games in 2017
Game of Thrones: Conquest - a 4X Strategy title developed internally by WB Games Boston
Playdemic — A Lucky, but Impactful Acquisition
It should be noted that when TT Games likely started acquisition conversations with Playdemic, Golf Clash was not a proven success. When the acquisition completed, the game was barely out of its soft-launch period. In fact, Playdemic's pre-acquisition mobile games portfolio achieved only ~20M downloads and ~$16M in IAP revenue. So why did TT Games acquire Playdemic?
Based on publicly available information, TT Games wanted to quickly bolster its mobile games development arm and put Playdemic to work on its LEGO mobile games. Given TT Games' mobile revenue track record, this move would've probably been welcomed by WBIE. Luckily, Golf Clash also came through and contributed to ~35% of WBIE's 2019 mobile gaming revenues. In hindsight, WBIE achieved 3 things through this single acquisition:
WBIE strengthened its internal mobile game development revenues and resources.
The company made TT Games more significant as an internal mobile studio.
The team eventually learned from Playdemic's live-ops process and cross-pollinated those lessons with other internal studios.
WB Games Boston — A Brilliant Transformation
In the revenue by studio graph above, WB Games Boston (WBGB) comes out of nowhere with a top grossing 4X title named GoT: Conquest. But before getting into what WBGB got right with GoT: Conquest, let's take a quick look at the studio's beginnings.
While the the long version is available here, the short version is that WBGB is the evolution of Turbine, Inc. after it was acquired in 2010 and went mobile-first in 2016. Turbine was a studio that primarily focused on creating PC MMORPGs, with LOTR Online releasing in 2007. In 2016, nearly 10 years later, Turbine saw its first mobile release — Batman: Arkham Underworld — which unfortunately flopped.
It's important to note that it took almost 6 years after being acquired for Turbine to release its first internally developed mobile title, and 3 years of ongoing layoffs (starting in 2014) certainly didn't help. Unfortunately, there was a lot of original Turbine talent lost over these years, and hiring the right mobile talent + shifting studio culture to a mobile-first one took significant time.
Then came GoT: Conquest in 2017, which proved to be a standout success. But how was creating such a success even possible after such tumultuous years? Our research suggests there are 4 key reasons.
#1: Hiring for Key Mobile Leadership & Roles: A quick LinkedIn stalking session of WB Games Boston's company page reveals the breadcrumb trail. For example, the current studio head joined WBGB in mid-2016 and was previously the VP of Games at Zynga.
#2: External Acquihires: In addition to hiring the right people, WBGB further accelerated mobile specific competencies by acquiring The Tap Lab in 2017. Tap Lab's CEO and CTO currently hold leadership positions on GoT: Conquest.
#3: Gameplay-IP Fit: In the simplest of words, Gameplay-IP fit is achieved when congruence exists between key IP pillars and three entities: the players, IP creators, and gameplay. In this case, the synergy between 4X gameplay and GoT's IP pillars is particularly strong. With themes like reconnaissance, dynasties, alliances, tyranny, and war oozing out of Game of Thrones, the fit to highly social king-of-the-hill style 4X game is striking. It's literally a game of thrones! Looking at this across the 4 X's of 4X games and what key GoT characters stand for, the great fit becomes clear:
#4: Perfect Launch Timing: Apart from great product design, gameplay-IP fit, and project execution, 2017 was also the year when Game of Thrones was at peak interest levels (as supported by the Google Trends graph below). With GoT: Conquest launching a couple of months after Seasons 7's last episode, the game ended up positioning itself as a perfect chase to the season's high.
Framework Learnings from WBIE
In summary, it is clear that WBIE was able to turn its mobile gaming business around through a mix of:
Acquisitions & Investments, notably Playdemic
Internal Development, with a focus on hiring the right people to build for mobile
Pairing valuable IP with a healthy dose of good execution, timing, and luck
It's hard to be objective about luck, but WBIE's narrative shows that even though Acquisitions & Investments can turbocharge certain efforts or skills, building a strong Internal Development team is mission critical.
Case 2: Activision Blizzard
Activision Blizzard (AB) began its video game journey as Mediagenic back in 1980, and the company didn't find its footing until CEO Bobby Kotick acquired the flailing business with a group of investors in 1991. From 1991 to 2008, AB made several moves that made the company a pillar of the console/PC world.
It wasn't until 2008 that the company started paying attention to mobile. Despite years of effort, AB's mobile revenues failed to move the needle until King was acquired. If you look at AB's mobile games revenue, there's a night and day difference between the pre-King and post-King eras:
Pre-King: The Struggling Phase
AB's early mobile attempts were riddled with failures. Madagascar: Escape 2 Africa was developed by Glu and published by AB in 2008 on almost all platforms, and unfortunately set precedent for a bunch of lackluster mobile ports. Follow up releases like Transformers: Dark of the Moon (2011) and The Amazing Spider-Man (2012) saw similar fates across all platforms. Clearly, "mobile-first" thinking wasn't a priority yet. Mobile was viewed as just another distribution avenue for selling the same games to new audiences.
AB eventually grew out of that mindset, especially once the mobile gaming market became large enough to be worth dedicating more resources to. Sadly, AB still struggled to find success. Tony Hawk's Shred Session never made it past soft launch, and both the Skylanders and Call of Duty franchises spurred many mobile games from various studios that either failed to launch or failed to make it big. Blizzard's Hearthstone is the exception, but even it took an additional year to be released on mobile. No matter who developed the games — internal or external studios — AB simply couldn't figure out how to repeatedly scale mobile success.
Post-King: The Improvement Phase
AB's leaders recognized they needed outside help. And so in 2016, they made a bold bet to acquire King, one of the most successful mobile gaming developers in the world. With the snap of a finger — or rather, $5.9 billion, approximately 25% of the company's market cap at the time — AB transcended from a mobile gaming laggard to a mobile gaming leader overnight. Those with industry knowledge could recognize that not only did AB buy a major franchise (Candy Crush) and open itself up to a wider audience, but it also acquired a team that knew how to build "mobile-first" products for mobile audiences… and then rapidly scale those audiences. But is it fair to say that acquiring King brought AB long-term mobile success? Yes and no.
On one hand, the acquisition brought AB immediate scale on mobile and a large, talented team. It also brought the Candy Crush brand in-house, which has proven to be both resilient and consistently profitable. Further, it acquired key processes and infrastructure that could ideally be built upon. And finally, King's cash flow machine — stemming from Candy Crush's long-term endurability — was largely underrated at the time of purchase, so AB's purchase price has been largely justified and shareholder value has been created. It was a sizable bet, but King's abundant cash flows reduced the risk, and the team is still allowed to operate mostly autonomously.
On the other hand, acquiring King wasn't the panacea leadership was hoping for. King hasn't replicated Candy Crush's success elsewhere, and AB's mobile business is still over-reliant on that single brand. When AB purchased King, it likely believed the team would find success using other AB IPs. King did produce smaller hits like Farm Heroes Saga — and at one point was said to be working on a Call of Duty game. But, unfortunately, outside of Candy Crush sequels King has so far failed to catch additional lightning in new genres. King's more newly established publishing unit (which released Legend of Solgard and Knighthood) will still hopefully help AB meaningfully diversify into new revenue streams in time.
Of course, over-reliance on Candy Crush (as you can see in the chart above) holds risk. Consumer tastes change, competition is picking up, and Candy Crush's increasing reliance on in-game ads may indicate some early-stage business model cracks. This important franchise won't disappear anytime soon, but over-reliance is certainly a catalyst for seeking diversification. Since King's internal efforts haven't successfully found that desired diversification, AB began pursuing additional Strategic Paths, primarily new Co-development Partnerships for its new mobile games that matter most.
AB found partners with the right skills and track records to develop mobile games for key non-King franchises. It's still early days, so we shouldn't expect perfection, but the team is clearly learning from the past and improving. Interestingly, today's mobile partners are increasingly Chinese with track records of blockbuster hits: Tencent and NetEase. Yes, Tencent owns 5% of AB, but both Tencent and NetEase have successfully developed blockbuster global hits. TiMi, a Tencent-owned studio with a long history of building exclusive games for Tencent's platforms, struck gold with Honor of Kings, and even though they were turned down to be the primary studio for PUBG Mobile, AB selected them to make Call of Duty: Mobile. As long as players remain engaged, TiMi has been and will continue to be successful with improving CoD: Mobile's monetization mechanics over time - read How Call of Duty Left $100M on the Table for additional context. Additionally, AB will work closely with NetEase on Diablo Immortal, which is currently in internal testing and will hopefully launch in 2021. There's also other mobile projects in the works that have yet to be revealed.
Even if those newer mobile games don't become the most successful, it's still a major step forward, and we should expect other brands to fast follow using similar strategies. In fact, the soft launch of a Crash Bandicoot mobile game was announced earlier this year and is slated for worldwide release during spring 2021.
Framework Learnings from Activision Blizzard
In summary, while AB might not have mobile gaming down to a science, the company's understanding and success have dramatically improved. The bulk of that success boils down to two key paths from our framework:
Acquisitions, with a mega-deal for King
Co-development partnerships, with two heavyweights: Tencent and Netease
Acquisitions and co-development partnerships helped turn AB's mobile fortunes around, but there's more to achieve. AB's mobile endeavors aren't perfect, and adding a third path (or more acquisitions + co-development partnerships) would probably solidify the company's long-term mobile success. With the success of Hearthstone under its belt, the strategic path that perhaps makes the most sense to (re)focus on next is Internal Development, and AB is clearly working to improve at this. In fact, management considers mobile to be AB's #1 opportunity, especially as it looks to builds stronger ecosystems around key franchises. Bringing World of Warcraft to mobile is likely the largest untapped opportunity, but there's much the company can do. We expect AB is still in the early days of applying this "Console to Mobile" framework.
Case 3: Tencent
Despite being the world's largest gaming company today, Tencent's core focus originally centered around scaling online social platforms, first with QQ in 1999 (desktop-first) and then with WeChat in 2011 (mobile-first). Both QQ and WeChat grew like wildfire in China and today hold 648 million and 1.2 billion monthly active users, respectively. As a result, Tencent is a unique example of how a traditionally PC/Console company can succeed in mobile gaming, but its story still holds key business lessons that others can apply to alternative environments.
Tencent Games, Tencent's fully-owned publishing subsidiary, was founded in 2003 to focus on online games exclusive to QQ. These QQ games were successful partially because of the games themselves — and the talent who developed them — but mainly because Tencent held tremendous distribution advantages. Showcasing first-party games on the company's own platforms lowers user acquisition (UA) costs for the games themselves, plus encourages deeper and often more profitable engagement for the broader platforms.
This realization — especially when the team replicated the strategy on WeChat — eventually led management to heighten reinvestments in a multitude of ways: Internal Development, Acquisitions & Investments, 3rd Party Publishing, and Co-development Partnerships.
Phase 1: Entrenchment
This phase is driven by two main factors: 1) WeChat adoption, and 2) internal reprioritization. WeChat — driven by the classic red envelope growth hack — was a success right out of the gate (2011) and hit 100 million users within one year. Its long-term user growth moves closely in-sync with Chinese smartphone adoption. It is ubiquitous, which provides enormous competitive advantages to Tencent within the largest mobile gaming market globally.
Of course, WeChat isn't everything. Tencent still needed to adapt and figure out what works best on mobile. Although PC gaming still remained an important piece of Tencent's gaming business, management dedicated more internal talent to mobile. Fortunately, because Tencent already had internal talent and now had a new platform to act as a hotbed of testing, it was able to figure out the basics somewhat quickly.
Phase 2: Reinvestment
WeChat's success caused Tencent's free cash flow to double within two years of its launch, which gave the company both the confidence and firepower to make even bigger investments.
Many of these investments were internal because Tencent held a unique advantage. A fundamental element of mobile gaming is user acquisition. Unsurprisingly, when you own a ubiquitous platform, user acquisition costs are greatly reduced, which makes the mobile gaming market even more attractive to pursue. Throw in the fact that Tencent's China-first platforms reside in the world's largest mobile gaming market — a region many global companies want to enter — and the UA advantages become even more striking.
For example, after a few successful WeChat-exclusive games, TiMi Studios came together and created Honor of Kings, which quickly captured 200 million players and generated billions in revenue. Tencent's strategy is beautifully captured in its revenue share by country graph below, in which China clearly dominates revenues with a ~90% share.
Apart from TiMi Studios, Tencent owns four other studio groups and has leaned even further into its distribution advantages. It created WeGame (essentially the Steam of China with 200+ million users), and since WeChat is like an in-app operating system it's pioneered mini-apps — many of which are games. One of those games, Jump Jump, is known for having attained 100 million active players in only two weeks. In other words, Tencent has evolved to resemble something akin to a mobile gaming factory.
Of course, Tencent's growth, scale, and margin profile quickly led to more cash flow generation than the company could realistically reinvest internally, so the company took a liking to external acquisitions and investments (in both gaming and other industries). As you can see in the table below, Tencent acquired itself additional market share across all platform types. This definitely helped the company expand its foothold in mobile, but it didn't exclude it from taking share elsewhere, too.
These deals are what pushed Tencent to become the largest global gaming company, and it makes sense why Tencent would want that title:
Acquisitions & Investments help scale Tencent's addressable audience beyond China and bolster development capabilities across a variety of genres, which adds an element of diversification and predictability.
3rd Party Publishing and Co-development Partnerships pay off when foreign developers wish to sell in China or even start pursuing mobile games in the first place.
Amassing the most users, aka UA Advantages, means that Tencent holds vast insight into the global state of mobile gaming, but it also provides an edge in all other parts of a gaming ecosystem (esports, cloud, storefronts, live streaming, etc.).
Lastly, if you suspect Tencent's lessons aren't replicable, think again. Sure, it's not for everyone, especially for smaller companies with narrower focuses, but many industry titans with important platforms and/or "legacy" gaming businesses have a lot to learn from Tencent:
Xbox is focusing more on services these days, which includes cloud gaming. Part of cloud gaming's value proposition is being able to stream console games to mobile devices. It's not the traditional type of mobile gameplay, but it increasingly has a place in the future. Xbox / Microsoft is thinking about expanding its audience and ecosystem somewhat like Tencent did — by using existing technology, content, and UA advantages to grow in new ways.
Facebook used to have a strong desktop gaming presence (via partnerships), which increased user engagement, but it's yet to prioritize doing the same with mobile. The company's cloud gaming efforts — making playable ads and allowing F2P mobile games to be streamed without downloading — is a step in the right direction, but there's likely more the company can do.
Disney eventually needs to rethink mobile gaming, and Disney+, an omnichannel platform with 60+ million users, could one day provide a unique source of UA advantages for Disney games.
Amazon, which owns Twitch and is investing heavily in new infrastructure, services, and games, has already expanded from PC to mobile once (with e-commerce) and can do it again (with games). Twitch holds an enormous mobile audience, cloud gaming will one day enable more mobile gameplay, and Amazon has the capital to follow Tencent's lead in multiple ways (acquisitions, internal development, unique UA advantages, etc.) if it wishes to expand its mobile gaming ambitions.
Framework Learnings from Tencent
In summary, Tencent's gaming story is absolutely about learning to excel at making mobile games, but it's just as much — if not more — about evolving through paradigm shifts and chasing unique, scalable advantages. Tencent used most of the Strategic Paths for mobile success:
UA Advantages, with the dominance of WeChat and eventual exploitation of that reach
Internal Development, to make the most of the above mentioned UA advantages and their unique knowledge of the largest mobile gaming market to create high quality localised games
Acquisitions & Investments, to provide the company with greater global optionality
Co-development and 3rd Party Publishing Partnerships, to ensure Tencent is first in line when these other companies wish to enter China or accelerate their mobile gaming ambitions
The 6 Paths to Mobile: Framework Details
Using the three case studies above — plus other companies considered in our analysis — we devised the "6 Paths to Mobile" framework. As we alluded to in the intro, the framework consists of six Strategic Paths — different mobile strategies companies can choose to pursue — and six Evaluation Lenses — to measure where companies stand on different factors that contribute to which Strategic Paths make the most sense to pursue.
Path #1: Internal Development
As seen in WBIE's case study, this Strategic Path is all about building up internal resources/studios that can focus on growing a mobile business. Given various external factors that are never fully in one's control, there is nothing better than having the comfort of a strong internal development arm to lean back on over both the short- and long-term.
In order to succeed with this strategy, we recommend evaluating your business across the 6 lenses in the following priority order:
Talent & Culture: Without an internal team that is well versed in various aspects of mobile game development, highly coordinated, and can reutilize past console game development knowledge, pursuing internal development strategically is impossible.
Process & Infrastructure: Even the best teams require new tools, processes, and technical infrastructure to successfully develop mobile games, especially given how mobile game production/live operations vastly differ to that of console games.
Financial Position: While being in a healthy financial position is key to support internal hiring and product development, the financial strength required for this Strategic Path is lower compared to that required in Acquisitions & Investments, for example.
Content & IP: While having popular console IP that has the potential to be migrated to mobile is an advantage, "content" could also be in the form of new design ideas that can be built specifically for mobile and eventually evolve into a new IP.
Mobile Audiences: Having pre-existing mobile audiences is definitely an advantage, but it is not necessary, especially if the internal team is convinced their game concept can grow a mobile audience from scratch.
Industry Relationships: This lens gets the lowest score since all development efforts are internal, but obviously relationships with key mobile platforms, ad networks, and marketing channels will need to be maintained to bolster future product success.
Path #2: Acquisitions & Investments
Sometimes the best way to solve a problem is to buy a solution. If you have the proper resources and wish for a more immediate solution, then consider acquisitions as part of your mobile gaming transition (or investments if you're simply seeking exposure). The questions below will help you determine whether it's right for your business, but don't forget that there's a difference between deciding whether it's the right tactic and creating meaningful value in reality. It takes price discipline and operational skill to intelligently integrate new people, processes, and tech, not to mention being a company that others would want to sell to and join. The majority of acquisitions don't work out as planned, but with the right discipline this is perhaps the most powerful path in our framework.
In order to succeed with this strategy, we recommend evaluating your business across the 6 lenses in the following priority order:
Financial Position: Risk is reduced when the acquiring company has a strong balance sheet and robust cash flows. Of course, there's often nuance in how exactly deals are structured — using a mix of cash, debt, and stock — but having financial flexibility is a major advantage. Without proper financial footing this Strategic Path makes no sense.
Talent & Culture: It's critical that acquisitive companies actively create environments that maximize the odds of acquisitive success, because many acquisitions fail due to people reasons. Build a business others would want to join. That means having the right talent in place to help with integrations (people, tech, processes) and creating an organizational structure that provides the acquired team the proper amount of autonomy.
Process & Infrastructure: The acquiring team doesn't need to have robust mobile infrastructure, but it's critical to set your newly acquired teammates up for success by knowing how you'll work together, combine resources, and build off of existing infrastructure.
Industry Relationships: Knowing all the biggest players isn't often helpful here, but keeping in contact with several smaller businesses is how you build connections that can more easily segue into acquisitive discussions.
Content & IP: Having mobile ideas and beloved IP isn't necessary here, but it doesn't hurt. After all, giving newly acquired talent more to work with can help unlock greater value.
Mobile Audiences: It's an advantage to have but not necessary. Ideally, an acquired team can build large mobile audiences from scratch.
Path #3: IP Licensing
Owning brands consumers love provides strong competitive advantages. Generally speaking, fans are happy to engage with their favorite IPs in a wide variety of ways — both across different mediums but also across a range of video game genres. Outsourcing development naturally consumes fewer internal resources than other solutions, so IP licensing is a great way for IP-rich companies to easily enter the mobile gaming fray. Of course, there's a spectrum here. Some companies are best served by relying on IP licensing for 100% of their mobile gaming business; others should take a mixed approach, taking on the projects they're best positioned for internally while outsourcing what they shouldn't prioritize.
In order to succeed with this strategy, we recommend evaluating your business across the 6 lenses in the following priority order:
Content & IP: Beloved IP is the cornerstone of this strategy. The more a company owns, the more options it has. Not all games need to be outsourced, but equipping certain external teams with certain brands can lead to outcomes a company wouldn't have been able to achieve itself.
Industry Relationships: Successful IP licensing doesn't get off the ground without connections to the right external teams. The more popular the IP, the easier it should be to nail down relationships.
Talent & Culture: Even though a team pursuing IP licensing won't be developing some or all games internally, it's still crucial to have people manage external relationships, set terms appropriately, and ensure the brands are being treated correctly. Expect meaningful back-and-forth communication.
Process & Infrastructure: This strategy requires less infrastructure, but processes around managing brands, projects, and relationships are critical.
Financial Position: This strategy is capital light, but retaining financial strength should help a company ensure it can properly support its brands without resorting to desperate and destructive decisions.
Mobile Audiences: It's an advantage to have but not necessary. Ideally, the studios you license to will build the audiences for both of you.
Path #4: 3rd Party Publishing
In a nutshell, 3rd Party Publishing includes sourcing great games/teams, filling their gaps using resources at hand, profiting together, and scaling the publishing business by leveraging portfolio effects. While that sounds great on paper, this path is notoriously hard to pull off in practice, especially in mobile. Nonetheless, the business model continues to live strong with new publishers and new approaches sprouting every year.
In order to succeed with this strategy, we recommend evaluating your business across the 6 lenses in the following priority order:
Process & Infrastructure: The developers who usually approach publishers are nimble teams with big ideas but internal limitations, so publishers can help by utilizing their infrastructure and processes to better scale developers' games. Importantly, as more developers wish to work with publishers, standardizing knowledge, processes, and infrastructure is of critical importance.
Financial Position: A major reason developers approach publishers is for continued financing of their games at the cost of future profit splitting. As a result, covering costs before revenue hits means financial stability is particularly important for publishers. Plus, the larger the development portfolio, the more important financial fortitude becomes.
Talent & Culture: To be useful to mobile developers, publishers need employees who have deep understandings of the mobile value chain. And because companies must work together, cultural dynamics that help teams collaborate and adapt are immensely important.
Industry Relationships: Maintaining relationships with developers is key, because being in the conversation and ready to act when the time is right can help smart publishers better compete. Also, maintaining healthy relationships with platforms, ad networks, and marketing agencies are also key for succeeding as a publisher.
Mobile Audiences: Having access to pre-existing mobile audiences isn't absolutely necessary if the financial capital exists to acquire users profitably. Further, as a publisher's portfolio grows over time, mobile audiences automatically stack to a point where leveraging portfolio effects becomes a competitive advantage.
Content & IP: Given how the developers are the ones who usually bring the content / IP, this is not an absolute requirement for success. Having said that, being able to tout big IPs successfully published under your brand never hurts.
Path #5: User Acquisition Advantages
UA advantages can exist for a few different reasons, and most reasons actually have little to do with games. One powerful advantage is to already own relationships with potential playing populations, which often occurs through running "platforms" like WeChat, Apple's App Store, or Facebook. In this situation owning a platform reduces your UA costs and makes it much easier to ramp up a playing audience. Of course, new platforms will always emerge — like Oculus or Manticore — so it is possible for new participants to join with compelling advantages.
Additionally, some companies' UA advantages may have little to do with platforms. For example, popular IP can be extremely useful. Games with brands like Star Wars, Marvel, and Game of Thrones are often able to attract new players more easily than games leveraging brands with small fanbases. Partnerships with other companies / platforms can also form UA advantages, and unique advertising insights can give you a boost over the competition. Whatever the case, if you possess a scalable advantage in your unit economics, then it's easier to decide on the rest of your mobile gaming strategy.
In order to succeed with this strategy, we recommend evaluating your business across the 6 lenses in the following priority order:
Mobile Audiences: There's no more powerful UA advantage than already owning a large mobile audience. If a company owns the relationship with hundreds of millions of mobile users, cross-selling is much more effective than building that audience from scratch.
Process & Infrastructure: Potential UA advantages don't matter if a company can't execute on them. A company must have the proper tools for testing, as well as the infrastructure to scale implementation when the time is right.
Content & IP: Most forms of UA advantages don't stem from IP, but using brands that people love often means a company doesn't need to spend as much in marketing to get the same (if not better) results. Owning brands people naturally want to engage more with is a great advantage to have.
Talent & Culture: UA advantages often stem from an individual's unique insights. Building a culture that encourages people to innovate on UA tactics can provide a competitive advantage. Plus, platform-oriented businesses need talented people who help scale it.
Industry Relationships: In order to maximize certain advantages — like owning a mobile platform or popular IP — working with partners can help accelerate UA. For example, partners can build on a platform or develop more games around certain IP.
Financial Position: It usually takes money to make money. If a company holds unique advantages or insights, increasing spend is often how it must scale UA.
Path #6: Co-development Partnerships
While IP Licensing takes a more hands-off approach to partnerships and 3rd Party Publishing exists to fill major resource and infrastructure gaps, Co-development Partnerships exist for when working closer together on the actual development could result in a better outcome than if one company was working alone. One prime example: western developers partnering with Chinese entities to localize western games for eastern audiences. Another example would be studios with major IPs partnering with brilliant production studios to release high quality titles that maintain the magic of the IP.
In order to succeed with this strategy, we recommend evaluating your business across the 6 lenses in the following priority order:
Industry Relationships: Arguably the most important lens, since co-development partnerships shouldn't always end with one product, especially when expanding to international markets. Ideally, they should span product portfolios, and the relationship should allow for future products to penetrate international markets from the get-go.
Talent & Culture: Since this strategy requires a hands-on approach, having the right talent is key. And due to high involvement in the development process, cultural fit and alignment between partnering entities becomes important, especially in cases when partnering with foreign teams with different cultures, languages, and time zones.
Content & IP: Co-development will almost always be more lucrative for the partnering entity when there is an IP involved. Or if one has proven IP potential in a local market and expanding to international markets is a key strategic move.
Process & Infrastructure: Highly involved development processes require partners to constantly interact with each other, thereby raising the importance of this lens. Further, process and infrastructural learnings could also be transferred to the partnering entity, which can help improve operations and profit potential.
Financial Position: In some cases, co-development projects don't yield profits until months after work begins, so financial resilience is important. That said, other cases, such as when cash cows already exist, mean profits can come a lot faster. It just depends on the project.
Mobile Audiences: This is not required to make co-development partnerships work, but finding massive mobile audience traction for your product/IP will always help with converting relationships into partnerships.
Framework Test Case: Electronic Arts
Electronic Arts (EA) often receives criticism for its progress in mobile, but the company's mobile efforts aren't as terrible as many make it out to be. Mobile as a percent of EA's business has clearly grown, but it's still undersized compared to where it could be:
That said, there are obvious signs of long-term learning, improving, and financial growth:
In general, and as supported by the graphs above, EA has found ways to drive mobile revenue growth but still struggles to attain repeatable and scalable mobile success. In fact, EA's strategy has shifted away from pumping out dozens of games to being more methodical about which games are the smartest to focus on (oftentimes around the biggest brands). If anything, though, production has slowed too much; little of significance has been released in the past 3 years, and older titles still make up the bulk of today's mobile revenues.
With notable titles like The Simpsons: Tapped Out, The Sims FreePlay, SimCity BuildIt, and Star Wars: Galaxy of Heroes, EA's internal efforts have seen moderate success. Unfortunately, Internal Development undoubtedly proved more difficult than expected, and EA's acquisitions (Jamdat, Chillingo) didn't create nearly as much value as was planned. Additionally, for the longest time EA Mobile wasn't prioritized in the organization's structure, which held implications for where resources flowed and what was ultimately prioritized. This is clearly seen in how poorly new mobile releases from 2017, 2018 and 2019 generated revenue:
Now that we've set the scene, let's run EA through our framework and show how management could think about taking its mobile business to the next level.
Applying the Framework to Electronic Arts
Step 1: Use common sense to rule out certain Strategic Paths
Determining strategic priorities can be a complex undertaking, but not all parts of the decision-making process take rocket science. For example, which strategies make no sense in the company's context or won't move the needle?
For many companies, especially smaller ones with narrower focuses, it's easy to rule out multiple paths. EA, however, is one of the largest and strongest gaming businesses in the world, so it shouldn't be a surprise that the company holds multiple strengths and can go multiple ways.
That said, there are at least two of the strategic paths that make little sense for EA to pursue. One is UA Advantages, because EA doesn't have another mobile platform it can leverage. And another is IP Licensing. EA does hold brands it could license out, but IP licensing won't move the needle as much as other options (in fact, EA stopped reporting "licensing" revenue as a separate line item almost a decade ago).
It's also worth comparing EA to other businesses. For example, of the three case studies we dissected, EA is most similar to Activision Blizzard, which means EA should study (and in some cases imitate) how AB is building mobile-supported ecosystems around its top franchises.
Step 2: Run through the key questions for each relevant Strategic Path
That leaves four remaining paths. There is some overlap — for example, one could acquire a team to bolster internal development abilities — but EA isn't limited to choosing only one path. For the sake of article length, we'll quickly cover the Lenses for two paths we think are the most important.
Internal Development:
Talent & Culture: EA certainly has access to talent, but leadership and structure are the bigger questions. Earlier this year, EA Mobile was one of three studio division overseen by Samantha Ryan. We criticized this saying that EA Mobile needs a focused leader, and now Jeff Karp has stepped up to lead the team. This is a positive step in the right direction, but we suspect there are additional structural changes that would help EA Mobile thrive and become a larger part of the business.
Process & Infrastructure: In general, the track record of traditionally Console/PC teams pursuing internal mobile development is discouraging. That doesn't mean EA can't pull it off, but it's definitely challenging. Inconsistent success indicates that EA's mobile product development processes need improvement.
Financial Position: Given EA's scale and profitability, there should be no major financial restraints to scaling up a team.
Content & IP: EA owns compelling IP that it could do more with, and the company has a track record of successfully leveraging 3rd party brands, too.
Mobile Audiences: Even if not a priority, EA can cross-sell players by promoting new games in its older titles.
Industry Relationships: Given the company's prominence, EA's relationships with platform owners and various UA entities is undoubtedly stellar.
Acquisitions & Investments:
Financial Position: EA has $5 billion in net cash and generates over $1.8 billion a year in free cash flow. Throw in historically low interest rates on any potential debt, and it's clear EA could acquire heavily if it desired to.
Talent & Culture: Acquisitions give EA an opportunity to bring in talented mobile leaders and give them more responsibility. A primary holdup, however, would be if EA isn't interested in restructuring how mobile teams report up the chain. From a culture perspective, EA would need to be mindful of how people are integrated and who's accountable for decision-making, but it's certainly a surmountable obstacle.
Process & Infrastructure: Integrating different mobile processes and infrastructure may be complex, especially in the case of a larger acquisition, but EA's leaders should view this as an opportunity to improve in a scalable way.
Industry Relationships: Healthy relationships are critical for M&A, and EA is in a fortunate position where it knows much of the industry.
Content & IP: EA should acquire a team with a track record of building successful games from scratch, but bringing in a team that can also work with EA's IP is definitely a plus.
Mobile Audiences: EA's current mobile audience shouldn't strongly effect how management thinks about acquisitions and investments.
Step 3: Prioritize the Strategic Paths based on the evaluation above
EA has a clear opportunity to enhance its internal development capabilities, which would unlock meaningful value and turn into a great long-term strength. However, as we mentioned, EA's track record is spotty, and the current organizational structure/priorities/process don't seem optimized for repeatable and scalable success.
The quickest/best way to spark meaningful change would probably be to acquire a mobile-first business that:
Is sizable and currently owns a top grossing title
Has a proven track record of repeatable success
Has a healthy product development process that can be scaled within a larger organization
Has strong leaders that can increasingly oversee EA's entire mobile strategy
Has a mostly future-proofed approach to mobile
Such a move would require significant capital, potentially a partial org-change, and a level of both collaboration and autonomy that would take some getting used to… but it could allow EA to level up its mobile business in a single swoop. Acquiring smaller teams may be fine, but it won't help solve other structural issues.
Having said that, acquiring a company won't happen at the snap of a finger. There's a lot of financial and cultural nuance to work through. And let's not forget, a viable acquisition target would also need to exist in a market that currently seems to be drying up rather quickly. However, given EA's needs and its robust financial position, finding a large and meaningful deal — on par with Activision's acquisition of King — is definitely a good place to start.
If EA can't find a deal it likes or nail anything down, it could still consider prioritizing internal mobile development by better empowering the EA Mobile team and setting Jeff Karp up for success as he collaborates with the "owners" of brands like FIFA and Apex Legends. After all, not only is mobile not prioritized in the org chart because its revenue contribution is low, but mobile's revenue contribution is low because it's not prioritized in the org chart. Adding Jeff Karp as the lead is a good first step, but no one leader is a panacea. He has to be set up for success.
A note on 3rd Party Publishing: this doesn't move the needle as much as other paths, but EA should absolutely continue sustaining the mobile games connected to brands like Star Wars, FIFA, and Madden. Losing those partners would be a major setback.
A note on Co-development Partnerships: this Strategic Path may very well have a place and should be ranked the #3 priority. We suggest nailing down an acquisition before outsourcing development in multiple ways, but if EA acquires a business and still lacks expertise in particular zones, then yes, it should work with more partners to build AAA games leveraging its best IP. Partnering with external developers is another way to move faster than fighting to do everything in-house.
In summary, by working through the framework, we suggest EA prioritize… a meaningful Acquisition → which could ideally help improve Internal Development → while continuing to hold steady on 3rd Party Publishing → and then pursue Co-development Partnerships to fill in any gaps.
In Conclusion
All gaming companies face their own unique circumstances, especially when it comes to finding scalable and repeatable mobile success. As much as we'd like to say "do what Activision Blizzard did" or "do what Tencent did," it's not that simple. However, there are patterns that can be identified and applied across the board. Our framework — The 6 Paths to Mobile — is designed to find those repeatable patterns and distill solutions that can help all gaming companies determine which path(s) to prioritize next.
For some companies, there may only be one viable path. For others, there could be several. And in some cases, it may take some further digging to decide what to prioritize. No matter the case, this framework can almost definitely help you and your team think through next steps in a more structured fashion. And even if you've been working on mobile games for years, there's no finish line in business, and the framework could help guide you toward new ways to level up, too.
Finally, it is important to call out that while our framework only touches upon strategic directions, each of these Strategic Paths have deep intricacies of their own and likely a bunch of path specific execution best practices. These would be very interesting to explore, but it was out of scope for this deep-dive. We might do an article on each Strategic Path in the future though!