There are only a few gaming studios in the world that are capable of releasing back-to-back global blockbuster hits. Supercell used to be the Western poster child with five consecutive releases of billion dollar titles — Hay Day, Clash of Clans, Boom Beach, Clash Royale, and Brawl Stars. miHoYo is now on a similar trajectory and becoming the Eastern poster child. It took the world by storm with Genshin Impact and has followed it up with another blockbuster, Honkai: Star Rail (HSR). HSR is a free-to-play cross-platform over-world turn-based RPG, with a silkpunk ACG thematic and character collection driven gacha-based monetization.
After a four year R&D phase with a 500-strong team working on it, HSR was revealed in October 2021. Here's the 2021 announcement – start watching from the 1h 19 minute mark. The game was launched on April 26th, 2023 across mobile and PC, with a PlayStation launch planned for Q4 2023. It is also published under miHoYo's global publishing subsidiary Cognosphere Pte., Ltd., which does business as HoYoverse and is also the publisher of Genshin Impact.
In its first three months, HSR has captured global recognition and is a breath of fresh air to the turn-based RPG genre. Part of this is related to HSR delivering a visually stunning, narratively immersive, and accessible turn-based RPG to a global audience. But it's also due to the ungodly amounts of monthly revenue HSR has been generating for miHoYo.
HSR's publicly available revenue number currently stands at $500M in 3 months, so miHoYo would've already recouped the game's likely $100-200M development and launch marketing budget. That said, the publicly available numbers usually neither include China Android revenues nor PC revenues. But let's try to estimate what HSR's true global revenues might look like.
While our entire worksheet is available to understand how we arrived at the above calculation, the key takeaway is that HSR is probably very close to (if it hasn't already) crossing the $1B revenue mark across platforms.
Genshin Impact's mobile revenues crossed $1B in less than six months. Since that doesn't count China Android, PC, or PlayStation sales, Genshin Impact's revenues across platforms probably crossed $1B in less than half the time. HSR is tracking similar to Genshin Impact in terms of cumulative mobile revenue over its first three months (showcased below) and HSR hasn't released on PlayStation 5 yet, both of which support our estimate above.
Speculations and estimations aside, there is way more money to be made for HSR and miHoYo. And according to David Jiang, Producer of Honkai: Star Rail, HSR is planned to be live-operated for at least another six years. This is because HSR's biggest content releases are going to be its Worlds (entirely new worlds for players to battle and progress through), with each one taking one year to produce. miHoYo plans to top up the currently available four Worlds with another six.
HSR is clearly a game any studio would love to have and miHoYo's ambitions are undoubtedly huge, but HSR's launch also reveals the first cracks in their portfolio expansion strategy. It starts with HSR's massive growth coming to miHoYo at a big cannibalistic cost and ends with its current product state not showcasing the long-term staying power miHoYo will need to plug the gaps it created. Before we jump off the deep end, let's first understand why miHoYo decided to build HSR at all.
After Genshin Impact, why Build HSR?
When we deconstructed Genshin Impact in December 2020, it was pretty clear why miHoYo chose to build that game after Honkai Impact 3rd (HI3). In a nutshell:
"Since inception, miHoYo's vision has unwaveringly been twofold. First, they hope to create ACG moe games, in which players develop strong emotions and connections with the characters and their stories. Second, miHoYo wants to push the boundaries of its creations from a technology perspective. In other words, that means creating technical marvels through its games. Both elements of miHoYo's vision can be clearly seen in the image below that captures how all the company's titles have strongly maintained a strong ACG thematic, while technical fidelity and resulting production value has improved with every successive title."
However, when comparing HSR to Genshin Impact, this line of reasoning starts to break down. While the strong ACG thematic is definitely there in both titles, HSR does not make a significant technical fidelity and production value leap beyond Genshin Impact. Even though miHoYo does use AI to power some behavioral patterns of HSR's NPCs (they also deem AI not very useful in other areas), it is a very light implementation that more serves as an experience point in miHoYo's development skills, rather than something that can be classified as a "technical leap" just yet.
Does the above mean that miHoYo's vision has changed? Likely not, although it might've expanded from a game-to-game to a portfolio-wide lens. Genshin Impact set a high bar in terms of technical fidelity and production value, and making any kind of vertical leap on those two items is a daunting task for any developer, including miHoYo itself. That said, miHoYo can make horizontal leaps instead, which means taking Genshin Impact's technical fidelity and production values to unexplored genres so that more types of gamers can play miHoYo's games. We believe this is core to why miHoYo decided to build HSR.
Apart from that, turn-based RPGs is also a genre miHoYo has been longing to do for years. Given miHoYo's portfolio mostly consists of action RPGs, there is some inherent risk in going after a completely new genre that the company hasn't proven success in. That risk also becomes sizable when the planned development budget is upwards of $100M+.
That leads to our next question…
Why is HSR a Turn-based RPG vs Action RPG?
With both HI3 and Genshin Impact being heavy action RPG experiences, and HSR using the Honkai name, we originally thought HSR was bound to be an open-world action RPG with heavy usage of the Honkai IP. Obviously that was wrong, because HSR is neither open-world nor an action RPG nor really uses Honkai's IP.
Instead, HSR is an over-world, turn-based RPG with only one character that maintains its identity from HI3. In fact, HSR brings in characters from many other miHoYo games, not just HI3. In other words, HSR is simply a spiritual successor to HI3. As miHoYo says:
"We'd like to emphasize that Honkai Star Rail is not a direct sequel to Honkai Impact 3rd, but a new game for everyone… Except for Welt, every previous character in the series will show up with brand-new identities in Star Rail, so players do not need to worry about its connection with other games… Welt is confirmed to be the same person from Honkai Impact 3rd, and he is also the key person to connect the story of Star Rail to other Honkai titles."
It begs the question: why build a cross-platform turn-based RPG when that market is not only highly competitive (with successful games like Fate/Grand Order, Summoners War, RAID: Shadow Legends, Final Fantasy, Persona 5, etc.) but also has been in decline on mobile (miHoYo's primary platform) since 2021?
In our eyes, HSR embodies Daniel Webster's quote "there is always room at the top." As can be seen below, HSR alone has reversed the revenue trajectory of the entire mobile turn-based RPG subgenre, and it's currently the #1 mobile turn-based RPG game by revenue. Further, building a turn-based RPG that pulls from the Honkai IP allows miHoYo to evolve Honkai from an IP to a franchise, which will have positive long-term business implications if miHoYo plays its cards right. This is very similar to how Supercell evolved the Clash IP from just Clash of Clans (build & battle) to the Clash franchise with Clash Royale (tactical battler).
From miHoYo's perspective, the choice to build a turn-based RPG has more to do with the company's portfolio expansion strategy than anything else. In a nutshell, over miHoYo's first 9 years of launching and operating free-to-play mobile games, the company honed in on perfecting its grasp of ACG art style and theming, action RPG control systems, designing and balancing deep RPG progression mechanics, monetizing with gacha, and increasing production qualities and technical complexity with every successive title. This can clearly be seen when plotting miHoYo's games, up through Genshin Impact, on a timeline and singling out each game's distinct features:
Then something changed in 2021. miHoYo launched Tears of Themis, a card battling dating simulator with character collection driven gacha-based monetization (check out the gameplay here). This surprise launch completely deviated from miHoYo's track-record in action RPG games, which mainly cater to male audiences. But that was kind of the point of Tears of Themis — miHoYo wanted to start catering to female audiences that enjoy ACG too, and it has been successful in doing so. As of August 2023, the game is #2 in its subgenre by revenue on mobile.
HSR's vision had similar motivations, apart from miHoYo generally wanting to build a turn-based RPG. Action RPGs have very twitchy gameplay and tend to appeal to players who enjoy fast-paced combat. Turn-based RPG battles, on the other hand, can be played at a much slower pace and much more strategically — thereby appealing to a slightly different group of players.
miHoYo's next game is called Zenless Zone Zero, an over-world, action RPG with an urban theme. The key differentiator with this game is likely going to be the urban theming, which will pull in new audiences who enjoy that thematic. Beyond that, HoYoverse Montreal is also building Project X, a currently codenamed "paranormal action shooter." (It's slightly unclear whether Project X is Zenless Zone Zero itself — we hope it's not!)
Putting all that together, it becomes clearer that miHoYo's portfolio strategy is shifting more toward creating a collection of differentiated game experiences that exist in a shared IP universe, cater to an ever-widening audience pool, and drive incremental revenue growth over the long-term. While that means product differentiation in terms of genre, theme, gender, and even age rating, it also means minimal cannibalization between portfolio products. The only element that'll probably stay constant across all games is the character collection driven gacha-based F2P monetization — miHoYo's monetization model of choice. In other words, the foundations of an eventual HoYoverse are clearly being laid, where everyone has something they would enjoy playing in miHoYo's gaming universe. Just that all these players will need to enjoy gacha-driven gameplay, as gacha-based monetization will likely fund building the HoYoverse out.
While this portfolio strategy (which we'll be referring to as "the HoYoverse strategy" in the rest of the piece) is fundamentally not revolutionary, it is certainly challenging, as there are only a handful of gaming studios that have been able to pull it off. The key question is whether the HoYoverse strategy is showing initial signs of success or not. To find the answer (and it might not be what you think), we'll explore three primary topics and use HSR as our guinea pig:
Did HSR's marketing successfully target new audiences?
Was HSR designed keeping audience expansion in mind?
To what degree is HSR driving incremental revenue versus cannibalizing existing games?
Let's dive in one by one.
Before going any further, a quick caveat:This report provides a mobile-focused data analysis, as HSR is yet to release on PlayStation 5 (expected launch in Q4 2023), and we expect the mobile player volume to be greater than that of the PC version. Further, the game, and therefore the top takeaways, are the same across platforms.
HSR's Launch Rivalled Call of Duty: Mobile's
miHoYo places tremendous importance on maximizing the impact of launch day. For Genshin Impact, this was evidenced by a $100M development + marketing budget, alongside an elaborate omni-channel pre-launch promotional strategy. As for HSR, which has a team of 500 behind the game, both the development + marketing budget and the pre-launch playbook appear comparable.
This effort resulted in a launch day downloads peak of ~17M! That is just 4M shy of Call of Duty: Mobile's (CODM) launch day downloads peak, double that of Genshin Impact's, and doesn't even include China's Android downloads (since data.ai does not track that). It's a phenomenal result for a relatively less known IP and even more so for a turn-based RPG game that is generally considered more niche than shooters like Call of Duty.
Therefore, it's safe to say that HSR did help expand miHoYo's overall audience by targeting new audiences. How did HSR do it? The answer can broadly be grouped into two success factors.
Success Factor #1: An Outperforming Pre-registration Campaign
A key aspect of HSR's pre-launch marketing playbook was a very successful pre-registration campaign. As seen below, the initial goal of the campaign was 5M pre-registrations and 2.5M social media followers across all social media accounts. HSR ended with 10M pre-registrations (2x the goal) and currently has ~6.7M social media followings (~2.7x the goal) across all channels:
Similar to Genshin Impact, HSR converted the pre-registration process into a community goal event by creating a milestone-based incentive system. Through this tactic, miHoYo essentially activated the community to not only work together to maximize pre-registrations volume but also share HSR with as many of their friends as possible. The upside for the community was that all pre-registrants would get the best game start rewards on launch day. Lastly, to make this strategy omni-channel, the team employed the same incentive structure for garnering social media followers.
Success Factor #2: HSR Went After Western Players with an Omni-Channel Approach
Here's an interesting statement by Fish Ling, Senior Director of Global Development for HoYoverse:
"More than 10 million people have pre-registered to download and play the game once it is released, including more than 2.5 million outside of China".
That means 75% of the pre-registration volume was driven by a Chinese player-base. And when one breaks out HSR's non-China downloads by country, it's also clear that ~70% of all downloads come from North American, South American, and European territories like US, Brazil, Mexico, France, and Germany.
In other words, HSR's pre-registration campaign successfully drew in Chinese players, but HSR was also very successful in drawing in Western players. Genshin Impact's 2020 launch and over-performance until now has probably played a huge role here because it resulted in miHoYo's audience organically growing in both the East and the West. Using this to its advantage, miHoYo invested in a mix of influencer, brand, and performance marketing efforts to garner a large Western audience. And of those three, we hypothesize that HSR's influencer marketing tactics have played the biggest role, primarily because it is the more budget efficient way to reach that level of launch scale versus purely brand or performance marketing efforts. Let's peel a few more layers.
On the influencer marketing side…
HSR launched a dedicated Content Creator Recruitment event a year before launch date. A key reward for joining the program was access to HSR's second closed beta build — clearly an asset to creators looking for new content to both grow and better engage their audiences.
Genshin Impact has also hosted various content creator recruitment and engagement events, but its first one happened close to a year after launching. Genshin Impact clearly used these events as part of the game's live-ops cycles, but with HSR the tactic evolved to also focus more on recruiting and engaging creators pre-launch.
Beyond that, miHoYo also launched the brand new "HoYoverse Creator Hub". Currently, this looks like more of a landing page for creators to submit their applications for becoming official HoYoverse content creators. It further connects a lot of content creator activity back to HoYoLab, which looks like miHoYo's take on a Reddit-like experience for the HoYoverse, and also grants daily login bonuses, survey rewards etc. across many miHoYo games.
All in all, this increased focus on nurturing a creator community never existed for miHoYo at this scale before, and given the launch timing of these initiatives, it was likely geared toward serving HSR's 2023 launch. Now HSR continues to engage and grow its creator community, while incentivizing audiences to tune in through proven tactics like Twitch drops.
What all these efforts resulted in is even more interesting. Zorka.Agency is a performance and brand marketing agency that has managed $400M in marketing budgets and worked with companies like Tencent, Playrix, Activision Blizzard, Wargaming, Plarium, and Gameloft. While it's unclear if they've worked with HoYoverse on HSR's launch marketing efforts, they do outline a few interesting takeaways in a case study:
HSR had a highly successful influencer marketing campaign, which targeted gaming channels on YouTube and Twitch.
HSR dominated YouTube's feed by working with numerous influencers simultaneously.
Dedicated videos showcasing gameplay mechanics and the overall game experience was key, as it provided influencers creative freedom and allowed them to address any audience concerns.
The target audience for Honkai: Star Rail primarily consisted of males (70%) aged 18 to 34, with a significant existing community of Genshin Impact players.
By targeting Genshin Impact and anime-related channels, the launch campaign successfully tapped into the existing fan base, driving interest and conversions.
Influencer marketing agencies like GameInfluencer were also recruited by miHoYo to increase HSR's influencer reach and seem to be offering CPIs up to $8.5 for English markets and $34 for German and French markets. And Gamesight, Naavik's Open Gaming Research Initiative partner, also confirmed that a whopping 66% (74K out of 112K) of HSR streamers have streamed Genshin Impact at some point! Nikolas Racelis-Russell, a data analyst at Gamesight says: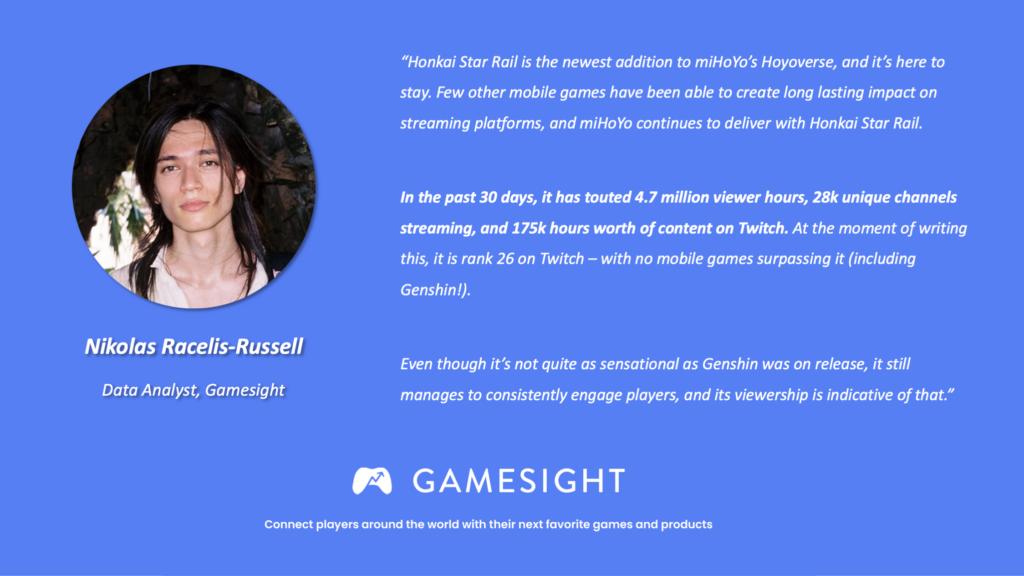 On the brand marketing side…
It seems like HSR's campaigns predominantly leveraged the power of TikTok (which Genshin Impact previously didn't do), other social media channels, and in-city efforts. Two notables efforts were the following:
StarRailCountdown

Users across social media channels were asked to countdown the number of days until HSR's launch with miHoYo by changing their social media profile pictures and banners every day.
The campaign went live eight days before HSR launched, and on each of those days miHoYo launched a new and custom set of social media assets that featured various important HSR characters.

StarRailChallenge

This campaign focused on TikTok, and went live on HSR's launch day. In short, users were asked to download the game, follow all official social media channels, and share the event page every day to receive a redeemable virtual currency called "Postmarks."
Most importantly, users could also earn Postmarks by participating in an event named "Encounter the Astral Express", which entailed posting TikTok videos showcasing an AR-generated Astral Express train flying in the background and adding the event tag #StarRailChallenge to the videos.
Postmarks could be redeemed for in-game rewards such as premium currency and other consumables.
HSR also performed several in-city brand marketing efforts (vehicular advertisements, billboards, etc.) in metropolitans like Tokyo, London, and New York. Additionally, popup events occurred in Singapore, Malaysia, Manila, and New York through a well planned "Astral Express Global Tour", and participation was incentivized with physical cosmetic rewards.
The StarRailChallenge resulted in 3M TikTok posts and 12B views globally since the event's launch. In terms of who watched these videos, 40% were 18-24 years old, 36% were 25-34 years old, and 24% were 35+ years old — and that lines up well with HSR's target audience being the 18-34 year old group.
On the performance marketing side…
There is nothing out of the ordinary except for the large budgets being spent to acquire both mobile and PC players via being an outsized voice on various marketing channels. It also doesn't seem like any of the creatives were optimised for a post-IDFA context, and mostly mirrored how miHoYo generally does ad creatives. The effect of these creatives can be seen in the TikTok ads library, where in the US, HSR seems to be optimizing for traffic and conversions, is achieving a 10-20% CTR, and is spending what TikTok qualifies as "high" budgets.
Further and this is anecdotal, almost every time we tried watching a HSR related YouTube video from English speaking channels with sizable subscriber bases, we were hit with a HSR advertisement. Also, TheGamer reported how HoYoverse has been leaning into ads where influencers overlay their video on HSR gameplay and provide highly scripted commentary on what all they love about the game. We've seen similar advertisements on channels like Facebook, TikTok, and YouTube. For what it's worth, we agree with TheGamer that these videos lack authenticity, but it has no doubt contributed to HSR's amazing launch downloads spike in the West.
A corollary to HSR's massive launch download volume is that the game has also gone on to beat Genshin Impact in terms of total downloads during its first two months by ~1.5x (58M vs 40M). But this lead has been reducing over time with the difference to Genshin Impact's cumulative downloads reducing to ~1.3x (63M vs 50M) by month five.
This cumulative downloads slowdown is mostly because HSR's monthly downloads baseline is now almost half that of Genshin Impact's (2.5M vs 4.4M) starting from month 3 and beyond.
Even though the HoYoverse team perfectly executed on HSR's pre-registration campaign and various omni-channel launch marketing tactics, the game's ongoing traction isn't as strong as Genshin Impact's was. In other words, miHoYo nailed it in terms of generating launch hype and driving initial downloads; however, now that the game isn't brand new, HSR's target audience isn't gravitating toward the game with the same fervor they did for Genshin Impact. This is likely because both games have a high audience overlap. Other potential reasons could include Genshin Impact launching during the COVID period and also having a great novelty factor due to being a first of its kind, both of which don't exist for HSR and would result in a higher downloads baseline for Genshin Impact. It is also important to note that Genshin Impact likely got way more traction on PC/Console, and so the real traction difference is probably even more stark than the mobile-only data above suggests.
To wrap this up and answer the above question, yes miHoYo kept audience expansion in mind and largely succeeded on it, even if longer-term traction isn't leading to new heights. Now, let's dive into the next question and answer whether and how successfully HSR's design kept audience expansion and engagement in mind.
HSR is a Highly Accessible Cross-platform Turn-based RPG
When thinking of mobile turn-based RPGs, our mind inevitably goes to games where players take teams of heroes through chapter-based combat missions, all presented via generally static, cluttered, and confusing UI screens, visual novel-style exposition, and highly complex meta progression systems. Even some of the newest titles like Crunchy Roll's Street Fighter: Duel follow the "formula." While this approach has generally resulted in driving great revenues for the turn-based RPG subgenre, it also has a limited audience size.
To these games' credit, executing on this formula isn't an easy task; but on the flip side, mobile turn-based RPGs have needed a breath of fresh air for a long time. While Lilith's Dislyte attempted to breathe new life into the subgenre, it's really miHoYo's HSR that gets the job done by challenging the status quo and blasting apart established "best practices" for this mobile subgenre.
Like any good RPG, HSR includes the trifecta of pillars — combat, story, and characters. However, where HSR shines versus most mobile turn-based RPGs that have the same pillars is in its execution. There simply isn't anything else with the same scope and polish as HSR, except Genshin Impact, and that puts HSR truly in a mobile turn-based RPG league of its own.
At the same time, HSR feels like a throwback to 90s JRPGs with overworlds containing multiple explorable zones, turn-based battles (including FF7's Limit Break-like Ultimate Attacks), and melodramatic storylines. It is a game that feels less like RAID: Shadow Legends and more inspired by long-standing turn-based RPG series like Final Fantasy, Persona, and the Trails series. But comparing HSR's turn-based gameplay design to any of those turn-based RPG incumbents is probably the wrong lens to look at the game through because HSR has clearly put a focus on increased accessibility. This focus not only allows HSR to strongly differentiate itself compared to other subgenre incumbents, but it also means audience expansion through product design was a key focus for miHoYo.
Increased accessibility and an expanded audience focus are key strategic decisions miHoYo probably made early on in HSR's conception, especially because the game was planned to be cross-platform from the start. In other words, instead of competing with major subgenre incumbents for a limited pool of turn-based RPG players across platforms, HSR focuses on expanding the turn-based RPG audience (and therefore the HoYoverse audience) by increasing gameplay accessibility, while still maintaining enough strategic depth for those who want it. Here are three ways HSR does so.
#1: Combat and Progression are Designed for Accessibility, Speed, and Strategy
When comparing HSR's combat and progression systems to that of other turn-based RPGs, it's pretty much at parity with other mobile turn-based RPGs and generally shallow versus that of various PC/Console subgenre incumbents. A few examples of why this is the case:
Every character only has two abilities and one ultimate, which is comparable to character combat depth in mobile turn-based RPGs, but it's a far-cry versus the PC/Console subgenre incumbents.
Battles are generally fast-paced and last for a couple of minutes (if not less), which is again comparable to mobile turn-based RPGs but not very similar to its PC/Console counterparts.
The game allows auto-play and sped-up combat (2x), thereby enabling players to multi-task and save time while grinding, which are staple features across turn-based RPGs on all platforms.
HSR's character progression systems are at parity with those of Genshin Impact (read more here), which was designed keeping mass audience appeal in mind. They're also generally at parity with various mobile turn-based RPGs but slightly shallow versus PC/Console competitors.
Further, HSR introduces one key innovation to the subgenre. Traditionally in turn-based RPGs, using a character's powerful ultimate skill usually delays their action in the turn order or uses several turns together, thereby taking a long time and sort of punishing the player for using an ultimate. HSR's key innovation is that it allows players to use character ultimates at any time in the battle without consuming any player turns. To quickly break that down:
Each character in the game has a basic attack, skill, and ultimate attack.
Basic attacks and skills generate energy for the ultimate attack. Energy for the ultimate attack is also replenished when the character is attacked or defeats an enemy.
When enough energy is accumulated, the character can unleash their ultimate attack.
Ultimates are the most powerful and visually impressive actions, with various effects such as damaging multiple enemies, healing, buffing, or protecting multiple allies.
When a player triggers an ultimate, it immediately takes priority in the battle turn order, even between enemy turns.
This change is in stark contrast to the subgenre's general design norms. It plays a key role in elevating combat to be a more thrilling experience that's fast-paced, while adding a layer of strategic depth, simplifying battle gameplay, and reducing player cognitive load. Said differently, it's a great design change to increase accessibility, gameplay speed, and combat strategic depth, while making ultimate-activation more rewarding and less punishing.
Finally, each of HSR's progression systems have been available in some shape or form in previous HoYoverse titles, primarily Genshin Impact. They have been further refined for HSR to add more player choice and hence depth of content. For example, Traces is similar to Genshin Impact's Talents, but in the case of HSR they give players options to explore like a skill tree rather than being set upgrades in Genshin Impact. Similarly, Light Cones in HSR, similar to Weapons in Genshin Impact, can be equipped to any character (with bonuses for matching Paths) rather than characters being fixed to a Weapon type in Genshin Impact. While these design decisions don't particularly increase accessibility, they definitely don't reduce it either. Simultaneously, they increase strategic depth for the players who want it, which is exactly the design balance miHoYo probably wants in HSR.
Overall, even though HSR's combat and progression require pre-battle strategic planning (what enemies am I likely to face, and which characters should I bring to battle?), in-battle tactical decision-making (which enemy should I target based on its elemental weakness, and when should I trigger an Ultimate?), and post-battle iteration (how should I upgrade my team build based on what did not work in the battle?), it is all designed keeping high accessibility in mind while delivering on enough strategic depth for the target audience.
#2: HSR's FTUE Caters Well to New-to-the-Subgenre Players
HSR delivers a first-class first-time user experience (FTUE) and early-game UX to make it as accessible as possible, especially to players who are new to the subgenre. Some key points that stood out to us:
The FTUE is paced well with complex concepts explained simply.
It quickly drops players into actual combat gameplay, where they get to feel very powerful by controlling two 5-star characters.
Unlike many mobile turn-based RPGs, HSR's FTUE does not hand-hold players only to abruptly stop and leave them with an overwhelmingly cluttered UI that's full of buttons, menus, and breadcrumbs. In fact, players are still in the FTUE well into the game, as a key system called Relics isn't unveiled until players hit level 14 and have completed a particular quest.
The early-game UX also has many quality-of-life improvements, including:

Tappable UI elements in the character screen to bring up information on complex topics like Elements and Paths
Automatically filtering suitable Light Cones (a type of equipable item) for a character
Showing enemy elemental weaknesses prior to combat, so players don't need to memorize the information
Skippable narrative cutscenes for those who don't want to engage in the game's storyline
With the massive download volumes HSR garnered at launch, a complex FTUE experience would've been an instant death wish. Therefore, it's great to see HSR ensuring its FTUE can be understood by the widest possible audience, which also certainly helps with retention.
#3: HSR's Narrative is Authentic and Accessible
As previously mentioned, HSR was designed more to be a spiritual successor than a sequel of HI3. Not only does that mean departing from action RPG gameplay to turn-based RPG, but HSR's storyline also requires no prior knowledge of the Honkai franchise. This is showcased by how only one HSR character, Welt, is deep connected to his story in HI3, while all the other characters are either new or from other miHoYo games with a fresh look and backstory. In other words, HSR's narrative strategy is also designed to keep increased accessibility in mind,because it invites new players to the Honkai franchise instead of shunning them away by requiring them to know various Honkai backstories.
While this is a smart move to further increase the game's accessibility, this strategy is only worth its salt when the storyline is good. We won't spoil the plot here, but to us, HSR is definitely JRPG-worthy in terms of its narrative concepts and intrigue. Where HSR's narrative efforts really shine though is the writing and characterization.
In our opinion, the dialogue is very well written, and one can tell that the writing team had a lot of fun with it. Easter eggs abound, and this early dialogue sequence, for example, includes not one but two 4th wall-breaking lines with references to Douglas Adam and a little shade thrown at a particular tech trend. Occasionally, players are also presented with dialogue options. While the different options won't affect the story, they do change the recipient's replies and, often times, the narrative payoff is worth it.
Characters are also compellingly written, with clear personalities like March 7th's chipper can-do attitude and Dan Heng's calm demeanor served with a huge dollop of dry wit. This personality really comes through via the game's text messaging system, where characters will send you messages, complete with the use of stickers. Often beginning seemingly mundane, these funny and insightful chains of dialogue reveal more of the character's personality and backstory in a fun and engaging way. HSR's characters ooze personality, making them desirable as companions that you want to know more about and not just as an ingredient in a team-building recipe.
As of the time of writing, HSR has four main Worlds, each containing multiple exploration areas, NPCs to chat with (sometimes with A LOT to say), side quests to complete, lore books to collect, and various sights to see. They aren't as dense with content as what a single-player JRPG might be (as the expectation will be to introduce more worlds to explore during live service), but there definitely is enough there to make each area worthy of exploring while journeying to complete the story missions.
It should also be noted that for any character collector, getting players invested in the characters through the use of strong narrative techniques can result in outsized revenue returns. While we can write a couple of paragraphs about why this is the case, we'd recommend watching the below video instead. It is from one of our favorite gacha-game content creators, Tectone, and it clearly showcases how spinning a great narrative around characters can drive sales. Further, HSR ensures that only the characters collected through the gacha can be interacted with through the in-game messenger, so as to connect ever closer to players.
In summary, it's quite clear from all the above that miHoYo has been pretty deliberate about creating a more accessible turn-based RPG experience, without losing too much of the subgenre's strategic depth. They've created a system that is fast-paced, provides interesting strategic options, is accessible to players, and most importantly, is fun. Getting this balance right is not easy, and HSR's excellent take is a testament to the team. And ultimately, players don't seem to be complaining given the game has received very favorable 4+ star ratings on iOS, Android, and the Epic Games Store. It has also reached ~750K Playstation 5 pre-registrations at the time of writing.
Considering all the above, it's safe to say that HSR was designed keeping audience expansion in mind. However, whether it worked as planned is more complex to answer, but let's try.
HSR Cannibalizes Genshin Impact and Is Not as Revenue Efficient
As previously discussed, HSR's launch day saw 2x more downloads than Genshin Impact's, which then reduced to 1.5x over the first two months. As such, it's somewhat surprising that during its first 2 months, HSR's total revenue only marginally beat that of Genshin Impact's during its own first 2 months ($256M vs $235M, or 1.1x). While that is a clear indicator of revenue inefficiency, HSR also seems to be heavily cannibalizing Genshin Impact. Let's talk about the latter first.
#1: HSR is Significantly Cannibalizing Genshin Impact
On a portfolio level, HSRisn't driving incremental revenue for miHoYo. Even though miHoYo did see record revenue levels during HSR's launch months, the total monthly portfolio revenue has come down to pre-HSR levels. In other words, HSR has clearly cannibalized Genshin Impact, and quite majorly at that.
As covered previously, this cannibalization is in large part driven by miHoYo heavily promoting HSR to Genshin Impact's audience, plus working with many Genshin Impact influencers to stream HSR instead. While it's generally wise to lean on your portfolio's audience to drive future product success, the fact is that HSR and Genshin Impact are both time-consuming with insane spend depth, and players have both limited time and budgets for gaming.
It's quite simple: Genshin Impact players are spending more time and money in HSR and therefore not as much in Genshin Impact anymore. The shift in time spent between both applications can be seen below.
That said, more players are spending more total time in the HoYoverse now, which is a win for miHoYo and still a step in the right direction. However, if more aggregate time spent in the HoYoverse doesn't result in higher incremental revenue, then it's a rather inefficient and suboptimal way to expand the business. It's hard to think miHoYo would wish to replicate these results again.
That leads us to the obvious next question — if total time in the HoYoverse has increased, then why hasn't it resulted in incremental revenue? This is where the revenue inefficiency cracks of HSR start to emerge.
#2: HSR is not as Revenue Efficient as Genshin Impact
Even though HSR's first two months saw 1.5x more downloads than Genshin Impact's first two months, it only saw a marginally higher cumulative revenue over the same time period ($256M vs $235M for Genshin Impact). And by month five, HSR's cumulative revenue is slightly lower than that of Genshin Impact's ($390M vs $420M), even though cumulative downloads are still 1.3x higher.
Clearly, HSR is not as revenue efficient as Genshin Impact, as evidenced by comparing the two games' RPD curves. At month five, HSR's iOS US RPD is -40% lower than that of Genshin Impact's ($3.32 vs $5.48), and this RPD difference is consistent across regions.
It is also interesting to note that HSR does not monetize as well as Genshin Impact in the West. Looking at the revenue splits by region, HSR is the only game that doesn't generate a proportionate amount of US revenue versus US downloads:
HSR: 70% East, 30% West → US is 30% of downloads, but only 15% of revenue
Genshin Impact: 60% East, 40% West → US is 15% of downloads and 20% of revenue
HI3: 80% East, 20% West → US is 10% of downloads and 10% of revenue
Finally, HSR's iOS US RPD doesn't look very hot even when compared to its subgenre competitors, as showcased below. It is the lowest of the lot at the five month mark.
Putting everything together — HSR isn't monetizing incredibly well, especially in the West, compared to Genshin Impact and other subgenre competitors — clearly HSR is dropping the monetization ball somewhere, and that's not a great sign.
We can go ahead and eliminate the hypothesis that "HSR's marketing efforts to maximize Western user acquisition are driving lower quality downloads / spenders," because if this was true, then Honkai Star Rail wouldn't showcase best in class D1 retention versus its key turn-based RPG competitors. Said differently, if the wrong audience was entering the game, they wouldn't wait longer than D1 to decide on whether they like the game or should quit playing.
Therefore, there's likely something wrong at the product level that's contributing to HSR's general revenue inefficiency. Let's figure out what that could be.
Three Reasons Why HSR is Revenue Inefficient vs the Competition
#1: A Very Generous Gacha in Early Game
Before getting into the numbers, it is worth highlighting three independent reviews of HSR's gacha system:
The Gamer: "As part of an initial push for the game, Stellar Jade also appears to be practically thrown at you. I've not even explored all the available planets and I have every four-star character and a couple of five-stars, making a team that's solid enough to tackle the current content, without spending a single cent. What more could you ask for?"
Eurogamer: "It's these two gameplay modes that might have you turning to Star Rail's gacha loot boxes in the hopes of pulling a 5-Star character to help push through some of the later levels, but from my experience, this isn't necessary. Spend your free currency on them, sure - it's never a bad thing to have more party options - but there's no need to spend money on character or weapon Banners to progress."
IGN: "Star Rail, at least in its initial state, doesn't sacrifice its smart design by forcing you to engage with its monetization to fully satisfy. Its free cast of characters, stellar combat, and variety of side quests prevent it from feeling like an excuse to get into your wallet. A version of Star Rail untethered from these commercial intentions wouldn't be all that different, but it sure would make it much easier to celebrate how fun it is to play."
In summary, all three sources have very positive reviews of HSR's gacha system primarily because it's a very generous one. But let's put some numbers to this hypothesis and make an objective comparison to Genshin Impact, since the gacha systems across both games are very comparable. Please also note that the gacha pricing in both games is the same (one gacha pull costs the same amount of $), and hence the analysis below focusses more on gacha drop rates.
Characters come in two rarities (4-star and 5-star), while their weapons (or Light Cones) come in three rarities (3-star, 4-star, and 5-star). The Novice Banner is the gacha that new players pull when they first enter the game. It is in miHoYo's interest to make the first impression of the gacha system a strong one but not too strong as to prevent overpowered drops too early in the game. If that happens, it would allow players to blow through in-game content without finding the need to monetize.
Unfortunately, the way HSR's Novice Banner is currently tuned does exactly that by guaranteeing a 5-star character on the final 50th gacha pull. Further, a 4-star character is also guaranteed at every 10th gacha pull, which means the first 40 pulls result in four 4-star characters. In comparison, Genshin Impact's Novice Banner has only 20 total pulls and guarantees one 4-star character on the 10th gacha pull and another 4-star or higher character (dropping a 5-star character is very rare) on the 20th gacha pull.
The Novice Banner is definitely the worst offender of all of HSR's gachas, because it is the one that is exposed to the largest volume of players the game will ever see. And being that generous so early in the game is bound to have a long-term revenue efficiency impact. But HSR's gacha isn't generous only at the start of the game — it continues to be quite generous versus Genshin Impact as the game rolls on:
The Standard Banner has a +50% higher chance of dropping 5-star characters, and a +16% higher chance of dropping 4-star characters versus the similar banner in Genshin Impact.
Light Cone Banners have a +14% higher chance of dropping 5-star Light Cones and a +59% higher chance of dropping 4-star characters versus similar banners in Genshin Impact.
Even though HSR has tried to balance out generous 4/5-star character drops with less generous 4/5-star Light Cone drops, it's really the characters that do more long-term monetization damage. That is because Light Cones only buff a character's base stats. And miHoYo has no incentive to make its 4/5-star characters feel less god-like, which means Light Cones take already acquired high rarity characters to only higher levels.
The only HSR banners that are tuned somewhat tighter than those of Genshin Impact are the Limited Character Banners. They reduce the chance of 4-star character drops by -23% and bump up 4-star Light Cone drop rates by +44%. This is generally good to see because these banners are also the most important for HSR from a future revenue generation perspective. As the game's feature set evolves and PvE content expands, the need to collect more characters will likely go up. That means there is a chance for any early revenue inefficiency caused by the generous Novice and Standard gachas to be made up for over time. Hopefully a similar gacha balancing is also brought to the Light Cone Banners.
Simply said, miHoYo has deliberately decided to make HSR's early monetization more player friendly, but then reduces the gacha odds later in the game to eventually drive greater revenue efficiency. This is not a new strategy though to drive high long-term LTVs, but a couple of other pieces also need to be in place for this strategy to work.
Looking slightly outside of turn-based RPGs, Royal Match deliberately makes its early game levels easy to solve, so as to get more players playing and progressing through more levels for 'free' in comparison to its King/Playrix competitors. But where Royal Match then succeeds is operating higher pricing - a $2 extra moves purchase (vs $1 for its competitors) and $10 monthly pass (vs $5 or less for its competitors). As we previously stated, HSR's gachas are priced exactly the same to those of Genshin Impact's. And therefore, HSR loses one lever to driving greater revenue efficiency in a generous gacha context. It should be noted though for a game like HSR, where the community is tight-knit and a majority of them also play Genshin Impact, changing gacha prices between games can risk causing significant community backlash.
But the other way this backend revenue growth strategy can work is if HSR manages to retain its players for a very long time. This is where the game's next revenue inefficiency contributor emerges.
#2: Lack of End-game Content
After one has reached the end of the current story missions, there are basically only two modes to engage with in the game: Simulated Universe and Forgotten Hall. Simulated Universe is a roguelike endgame dungeon that makes repetition fun and rewarding with weekly reward resets. Forgotten Hall, which is similar to the Spiral Abyss in Genshin Impact, is a game mode that requires players to create multiple teams of characters with synergies to beat pre-defined enemy combinations and rewards that reset weekly.
Besides these two modes, there isn't much else to do, and it shows in HSR's long-term retention numbers versus the competition. HSR's iOS US D30 retention comes in at an abysmal 4% versus 10% for RAID: Shadow Legends, 12% for MARVEL Strike Force, and 14% for Star Wars Galaxy of Heroes. That's a D30-to-D1 retention ratio of ~10%, which is very poor versus a ratio of ~30-40% key competitors see.
If you think HSR's low D30 retention numbers in the West are related to it being ACG, it is doing no better in Japan, South Korea, and Taiwan, as evidenced by the blended iOS numbers below.
With each new content update, HSR adds more characters to collect, unlocking their various progress vectors and supercharging engagement with the game. But the grinding required for character progression starts feeling stale with only the endgame dungeon to play.
In short, the game is in clear need of more robust content and progression for superfans. In fact, several content creators have been calling out this lack of content and warning their viewers not to spend as there isn't really anything compelling to use your characters on. Interestingly enough, the Genshin Impact community is frustrated by the same lack of end-game content problem. What's surprising is miHoYo did an interview last year for Genshin Impact where they addressed the lack of endgame content directly, stating:
"The Spiral Abyss is one of the most effective ways for players to test out their party composition and combat strength. If we design another type of permanent endgame that is similar to the Spiral Abyss, it might end up creating excessive anxiety for our players--not everyone is interested in Musk Reef. Just like the Genius Invokation TCG that we unveiled in the Special Program for Version 3.2, we are also working on designing more interesting gameplay in the future. As an open-world game, Genshin Impact has a natural compatibility with various types of gameplay, which gives us confidence in the long-term operation."
Genshin Impact players were not happyto hear this, but miHoYoappearsset on this strategy — to add content for the widest possible audience to engage with and enjoy, avoiding common F2P endgame systems like PvP leaderboard competitions that only superfans engage with. And since that has more or less worked for Genshin Impact, it seems like a strategy miHoYo will be sticking to for HSR too.
Importantly, that doesn't change the fact that HSR's current D30 and D60 retention numbers are atrocious versus the competition. Therefore, if miHoYo wants to stick with Genshin Impact's end-game strategy for HSR too, it will need to figure out an implementation that quickly reverses the game's long-term retention fortunes. This will need to be done from two angles — expanding the base late-game systems and executing stellar live-ops. Unfortunately, the latter also currently seems to be an issue with HSR.
#3: Lack of Live-ops Driven Engagement
There are two aspects to HSR's live-ops: new banner releases and in-game events. In terms of new banner releases, HSR is not only delivering on a similar cadence to Genshin Impact, but these banners are also performing equally well (if not better). This is showcased in the two games' daily worldwide revenue graph below, where HSR's revenue peaks caused by new banner releases match that of Genshin Impact.
According to GenshinLab, for China iOS, HSR has released a total 7 character banners and grossed a total of ~$154M. That results in an average of $22M per banner release for HSR. In comparison, Genshin Impact has released a total of 53 character banners (including banner re-runs) and grossed ~$970M over its lifetime. That results in ~$18.5M per banner release for Genshin Impact. HSR's average revenue per banner might be higher right now due to the low number of banners released and the game's novelty factor, but it might be challenging for the revenue peaks to continue to stay this high given the decreasing mid-to-long term retention and broader staying power (downloads baseline) the game's currently seeing. At the moment, though, it's safe to say that HSR is delivering great results on the first part of its live-ops strategy.
Where HSR can catch up to Genshin Impact is part two of its live-ops strategy: in-game events. Plotting HSR's current event list versus that of Genshin Impact's clearly brings out two points:
HSR's monthly event volume is slightly lower than that of Genshin Impact's (6 vs 8).
Only 4 of 6 HSR events require actual gameplay versus 7 of 8 in Genshin Impact.
Therefore, there's significant room for HSR to expand not only its total in-game event volume but also the number of in-game events that require actual gameplay. The latter is especially important for two reasons — 1) this would help move the game's D30 retention number upwards, and 2) all players purchasing those character banners can actually put their characters to use, which is necessary if HSR wants to continue seeing its banner releases perform so well.
Didn't miHoYo Know HSR is Cannibalistic and Revenue Inefficient Before Launch?
It is a fair question to ask. Comparing gacha drop rates, end-game content volume, or live-ops event volume between HSR and Genshin Impact to reach the conclusions above doesn't require galaxy-brain thinking, and they're all likely deliberate decisions miHoYo has taken. Measuring for cross-portfolio cannibalisation is also possible to some extent. So, assuming they knew all the above, why did they decide to launch a cannibalistic and revenue inefficient title globally?
The best hypothesis we're able to come up with is that this has something to do with miHoYo's long-standing closed-beta game testing strategy versus a more traditional soft-launch one. All of miHoYo's games from HI3 onwards have steadfastly stuck to pre-launch testing with a multiple closed-beta strategy, averaging 2-3 closed betas per game. All of miHoYo's games from HI3 onwards have also gone on to become subgenre leaders with this pre-launch testing strategy in place. With that kind of track record, it's easy to imagine that a closed-beta testing strategy is simply the norm internally at miHoYo. But there are three major issues with how miHoYo carries out closed betas.
First, a lot of selection bias can be introduced into any kind of internal closed-beta metrics analysis based on how miHoYo selects its closed-beta testers. First, the company makes an announcement of an upcoming closed-beta. Next, interested players then submit their applications to participate in the closed beta. And finally, miHoYo approves who gets into the closed beta based on the information provided in the sign-up survey. There are two levels of selection bias introduced here — 1) players who actively seek out and sign up for a closed-beta are inherently more invested in the game even before playing it, and 2) if miHoYo selectively approves closed-beta applications, it's just another level of biasing what's already a biased player sample. The impact of this selection bias is elevated retention and engagement metrics. For example, it doesn't seems like many of the closed-beta testers felt lack of content issues even after playing the game for hundreds of hours, but this is also something that is very hard to test for in a closed-beta setting.
Game developers usually call this a "golden cohort effect," and it also exists in soft-launched titles. But since soft-launches usually last multiple months and new players are acquired every day from a targeted yet randomized pool of unknowing users, the golden cohort effect disappears over time in any cohort-based metric analysis. That doesn't happen in closed-betas, in which developers need to extract metric insights from a fixed group of testers. In other words, the golden cohort just gets more golden in closed-betas.
Second, miHoYo doesn't seem to perform any kind of monetization testing during its closed betas. Both HSR and Genshin Impact did not test their monetizations before going global. Given the revenue volumes both these games generate, it's slightly curious that miHoYo puts a $100M development budget on the line, changes gacha rates, and flies into global launch largely blind on monetization potential. Said differently, the LTV impact caused by a significant change in gacha rates cannot be gleaned if monetisation is not tested for before launch. miHoYo probably estimated a theoretical impact since they know Genshin Impact's audience monetisation behavior (HSR's audience has a high overlap) and a generous early gacha lowering early LTV is obvious, but they probably also underestimated it.
While miHoYo might now have a solid cash balance to take $100M risks with every successive game they make, a potential reason they don't find monetization testing important could be due to how all their games heavily depend on new character banner releases for a majority of revenue. If miHoYo is able to create enough pre-launch hype starting from a game's first closed beta itself, it could theoretically model out launch month revenues to see how long a development cost recoup would take. Further, if successive games' monetisation design is based on that of previous games, and there is high audience overlap between games, then miHoYo can transfer monetisation learnings between games and the need to test for monetisation before launch is further reduced. That said, when one's closed beta audience doesn't complain about lack of content issues and monetization feature testing isn't turned on, it is also slightly hard to know what kind of impact a generous gacha would have on progression speed through the launch content volume.
Third, one aspect of HSR's performance externalities that would've been hard, if not impossible, to test in a closed beta set up is cross-portfolio cannibalization. This would've been possible to do to some extent through soft-launching in certain territories and then monitoring the retention, engagement, and monetization behavior of both Genshin Impact and HSR players in those regions.
In summary, even though this isn't the first time miHoYo ran a closed-beta, the team likely underestimated the impacts of a more generous gacha, lack of end-game content, and cross-portfolio cannibalization when deciding to take HSR global.
Undoubtedly, a miHoYo PM would've performed some kind of game performance projection to provide a recommendation to management on whether the game should go global or not. But taking all kinds of number haircuts in an Excel model, making well informed assumptions based on the closed-beta retention/engagement numbers, and transferring monetisation learnings from previous games can only go so far to provide a reliable recommendation on whether the game should go global or not, and what implications will it have if it does. An obvious takeaway is that miHoYo will likely adjust the way it tests games in the future, at least if it's going the target the same audience, because closed-beta tests don't seem like a great way to build an eventual HoYoverse.
Taking all the above into consideration, miHoYo has its work cut out to bring HSR back onto a stable set of rails. While HSR will definitely become (or already is) another billion dollar baby for miHoYo, we'd love to see it become miHoYo's second five billion dollar baby, after Genshin Impact. If nothing changes, we'll likely see Genshin Impact return to dominance in players' play time. In fact, this already seems to be happening, as showcased by the average time per player graph below — and revenue is bound to follow.
Looking Ahead for HSR, miHoYo, and RPGs
Although HSR has already proven to be successful for miHoYo, we believe HSR's true impact will not stay local to itself or even miHoYo. In our opinion, the launch of HSR marks three important inflection points for the industry:
While HSR has its work cut out over the next half-decade to maximize its own revenue potential, it has set a new bar for mobile turn-based RPGs going forward.
For miHoYo, HSR's performance not only makes replicating Genshin Impact's quality and success over multiple products feel more realistic, but it also builds on the foundations Genshin Impact laid for what's going to be a massive multi-genre HoYoverse. And the industry should be vigilant.
Genshin Impact, Tower of Fantasy, Ni no Kuni: Cross Worlds, and now HSR was just the start of a sizable wave of ultra-high production value gacha-RPGs from Eastern developers hitting the market over the next few years.
On point #1 — While HSR's current success is commendable, it's path to $5 billion is still questionable. Even though the game is a breath of fresh air to turn-based RPGs, had a great launch, and was able to attract Western players, it is now cannibalizing Genshin Impact, not generating incremental revenue for miHoYo, and clearly has some product issues to work through to become more revenue efficient. Further, HSR's launch clearly showcases some cracks in the HoYoverse strategy. miHoYo needs to rapidly learn from HSR's launch implications and figure out how to not make the same mistakes with their next new game launch. But with a development team of 500 and at least 6 more years of live-ops already planned, we're hopeful that miHoYo will eventually find the right balance for both HSR and its portfolio.
As immediate learnings, miHoYo would probably figure out how to test for portfolio cannibalisation before their next game launch. They might also try to build future games in genres that don't have high audience overlap, which would be a good move for the HoYoverse to maximise its audience reach. And when the team simply wants to build a game with high audience overlap to an existing game, miHoYo might just choose portfolio pockets that need to be reinvigorated as new revenue generators and replace old games with new games that fill those gaps.
More broadly though, we believe the bar that HSR set for mobile turn-based RPGs will have the same impact on future titles in the subgenre as Star Trek Fleet Command had on the 4X subgenre. When Star Trek Fleet Command launched, it set a new bar in UX for 4X games. Until this game, almost all 4X titles looked like glorified e-commerce portals in game wrappers — or in a word, ugly. But once Star Trek Fleet Command showcased that 4X's UX can be smooth, beautiful, and accessible, the subgenre never looked back and went on to see games like Rise of Kingdoms, Top War, and Whiteout Survival. HSR does the same in terms of overall production values, highly immersive over-world progression, narrative design, and combat innovation. It's only a matter of time we see this rub off on future mobile turn-based RPGs that want to compete with HSR. Until then, we can expect some level of subgenre consolidation to occur.
On point #2 — What Genshin Impact did for miHoYo goes far beyond generating multiple billions of dollars in revenue. Most importantly, it grew in-house technology, expertise, and know-how in building AAA mobile games over multiple years, managing big development and marketing budgets, and running multi-thousand member live-operation teams profitably. It also generated millions of passionate fans, and a community miHoYo can largely rely on. What HSR does for miHoYo is that it proves a Genshin Impact-like product building and operating strategy is replicable across multiple genres. And once that genie is out of the bottle, it's going to be pretty hard to put it back. But whether it is a sustainable portfolio growth strategy is yet to be proven.
While this is great news for players (who doesn't want more HoYoverse games!), the industry shouldn't forget that from Genshin Impact onwards, miHoYo has dominated every genre it has entered. Zenless Zone Zero has a great shot at taking the Action RPG throne in 2024 and overtaking HI3 while at it. And if it does, we'll definitely be curious to see whether it adds incremental revenue to miHoYo's portfolio.
More broadly though and as previously discussed, HSR is just another step toward miHoYo building out its HoYoverse experience, which is creating a collection of game experiences that can cater to an ever widening audience pool. Very few companies can pull this off at scale. Riot is the latest example, and that's been great for gamers and raised the bar for the industry. Supercell also belongs to this list. And Nintendo did the same many years ago in its own way. Many realise this, but it should be said — miHoYo is currently one of the most promising companies in the industry, hands down. If any games company could consider going public, miHoYo would eventually be at the top of that list - especially if it can continue to grow the HoYoverse strategy. And their once failed IPO is likely not going to get in their way.
On point #3 — The golden years for AAA cross-platform gacha-RPGs are soon going to be upon us. Genshin Impact showcased what's possible here, and it was followed by Tower of Fantasy, Ni no Kuni: Cross Worlds, and now HSR. But it will not stop there. Here are some soon-to-be-released gacha-RPGs we're keeping an eye on:
What's noteworthy if not concerning about the list, though, is that they're all developed by Eastern developers. Genshin Impact should've been the wakeup call for Western developers to also start exploring the potential of AAA cross-platform games, but developers, especially the incumbents, have made minimal progress other than with titles like Diablo Immortal and Marvel Snap. While that might change in the future, it's not stopping newly formed Western teams to go after the cross-platform opportunity. Phado Labs is the most recent example, having closed a $15M Series A (after a $2.5M Seed round) to build an ACG RPG with a unique UGC twist. Gameplay details remain scant and we're unsure whether monetization will be gacha-based, but the vision is exciting.
Coming back to HSR and miHoYo, we'd like to end with two positive notes. First, HSR's cannibalization on Genshin Impact and monetization underperformance show cracks in the current HoYoverse growth strategy. However, it's just an overenthusiastic crack, not a break. The team likely won't (at least exactly) make the same mistake twice, and the long-term potential of miHoYo is just as promising as other rising stars (like Riot), especially if the company continues to raise the bar and learn from its mistakes. We find that the more likely scenario than not.
Second, we'd just like to say that HSR is a good reminder to all game developers that every subgenre, no matter how old, concentrated or competitive, always has room for innovation and opportunities to breathe new life into it. It's a point that is often forgotten, but let's not forget the things that make our industry exciting.
A Big Thanks to Our Partners
This essay and all of Naavik's freely available research wouldn't be possible without the support of our Open Gaming Research Initiative partners. Learn more about them here.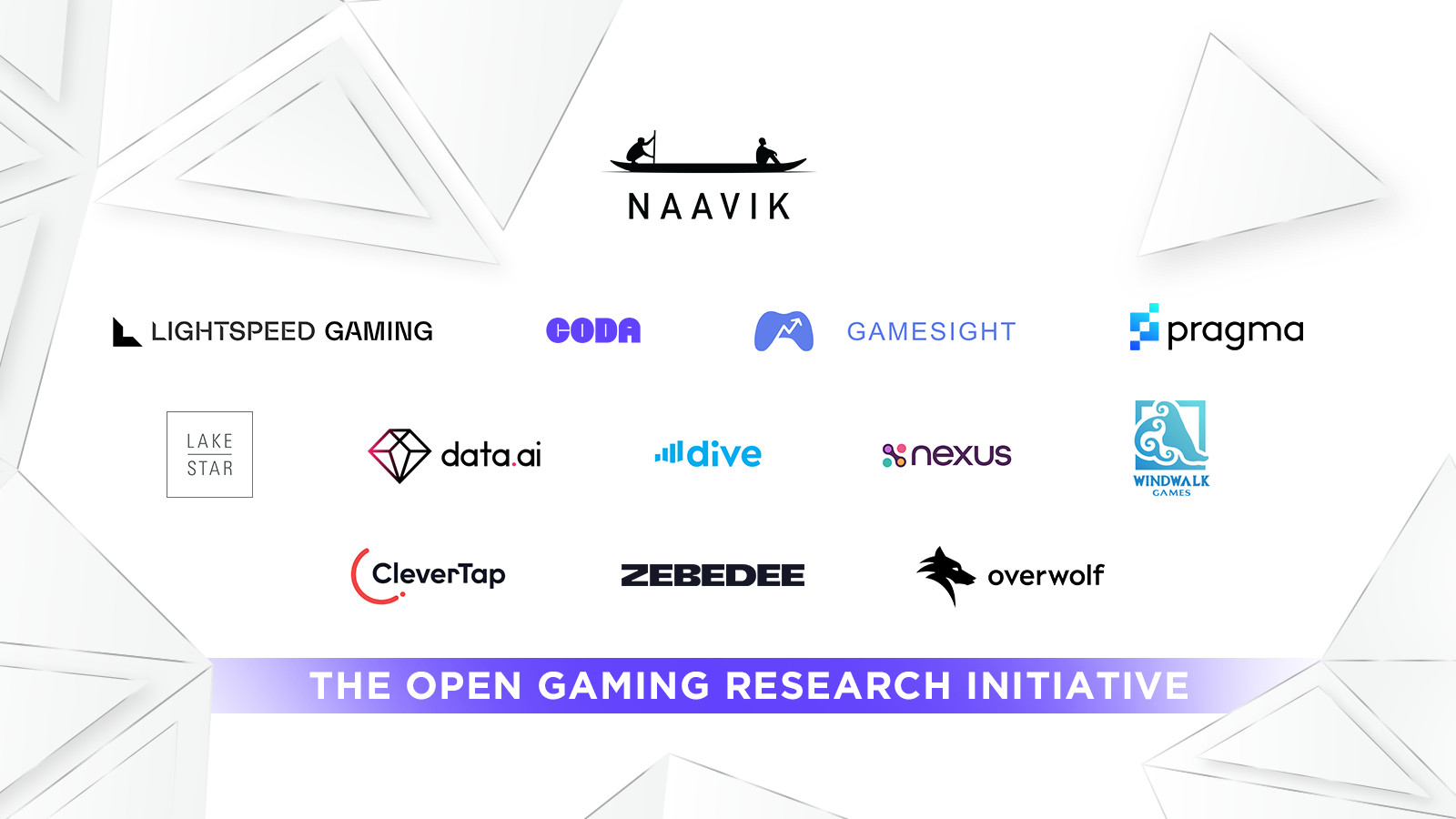 Naavik has helped 250+ games teams with game & economy design, market research, user acquisition, and more. If interested in how Naavik can help your team, make sure to learn more and get in touch.